Help
/ What is FlexiQuiz?
What is FlexiQuiz?
FlexiQuiz is a secure, professional online test maker platform that enables anyone to create quizzes, exams, or assessments with confidence. It's simple but intuitive for individuals and teams to generate almost any type of examination for business, education, or just for fun!
FlexiQuiz is super flexible with a massive choice of customizable options to help you meet your training, testing, and examination goals whether you are working remotely, in the office, or classroom.
You can choose to use FlexiQuiz for free or access enhanced features with our Essentials, Premium, and Enterprise plans. Find out more about our plans and pricing here.
What type of quizzes can you create with FlexiQuiz?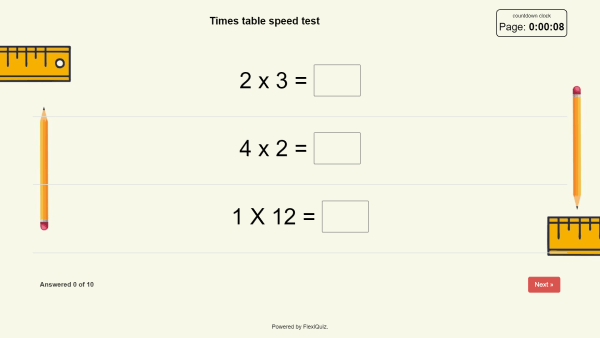 Flexible quiz maker features.
There are many more features including email notifications, custom results page, powerful reporting and more. For more information about our features, click here.
Is it easy to create a quiz?
Yes, you can quickly make and share an online quiz in just a few minutes.
To start, choose what type of quiz you would like to create based on how students will participate.
What browsers and devices are supported by FlexiQuiz?
You can create, view, and complete a FlexiQuiz using the following platforms/ browsers:
Smartphones: iPhones running iOS 10+, Android smartphones running 4.4+, Opera Mini (latest version) and IE Mobile (latest version.
Windows and Mac computers: with the latest versions of Chrome, Safari, Firefox, Microsoft Edge and Opera browsers.
Tablets: iPads running iOS 10+ and Android tablets running 4.4+
We usually support at least two previous versions of all popular browsers and platforms.
What do our customers say?
Thousands of companies, individuals, teams, schools and universities currently use FlexiQuiz.
Check our latest reviews with Capterra.
Get to know us better
Check out our FlexiQuiz blog for information on how to make the best tests.
Five popular blogs:
Let's get social
Keep up to date with all of our latest news, information, and top tips in the FlexiQuiz social channels.
Back