All the features you need to make custom
quizzes, tests and assessments
An intuitive user interface
Our online quiz maker software is simple and easy to use. You can quickly create measurable, engaging tests customized to your needs:
No coding or software downloads required.
No adverts, so you can focus on managing great quizzes.
Secure, web-based platform.
Flexible features for schools, universities, and businesses large or small.
Supports synchronous and asynchronous learning.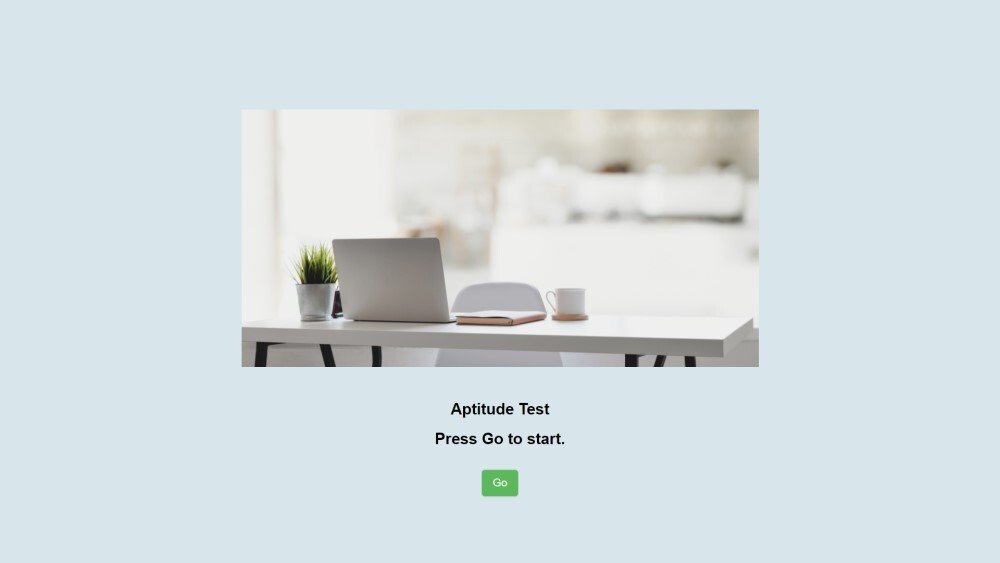 Choice of question types and formatting options
We offer various question type templates and formatting options to help you create examinations or trivia quizzes that test respondents' ability and knowledge:
Choose from 9 question types, including multiple-choice, essay, picture choice, short answer, matching, file upload or fill-in-the-blanks.
Upload supporting documentation such as PDFs excel files or Word documents.
Select if the question is optional or required.
Show question feedback straight away or at the end.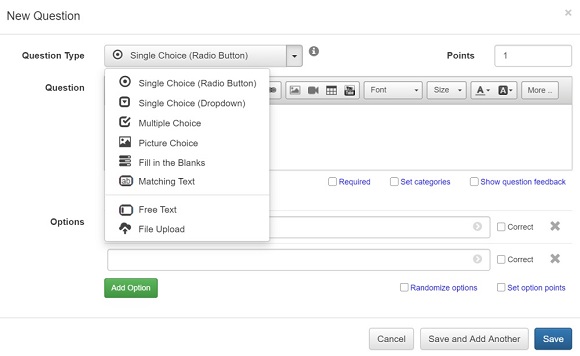 Attractive design options
From basic to elaborate, with FlexiQuiz, you can create and style a quiz that reflects your brand, personality or theme:
Remove FlexiQuiz branding.
Add your logos.
Change background colors and images.
Choose from various page layouts and types, including welcome or thank you screens.
Add media such as videos, GIFs, pictures and audio to bring your content to life.
Update the text on all quiz taker instructions, including navigation buttons and holding messages.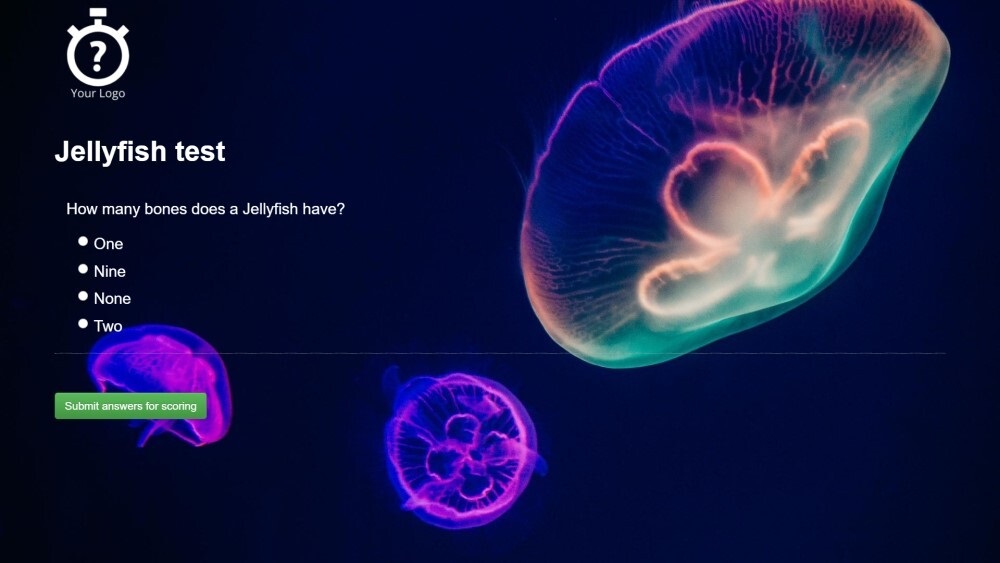 Flexible customization options
FlexiQuiz is packed with the functionality that you need to create any quiz, test, exam and course. For example:
Time limits for the whole quiz or by page.
Question randomization.
Save and continue later.
Progress bars.
Maximize quiz attempts.
Bookmark questions.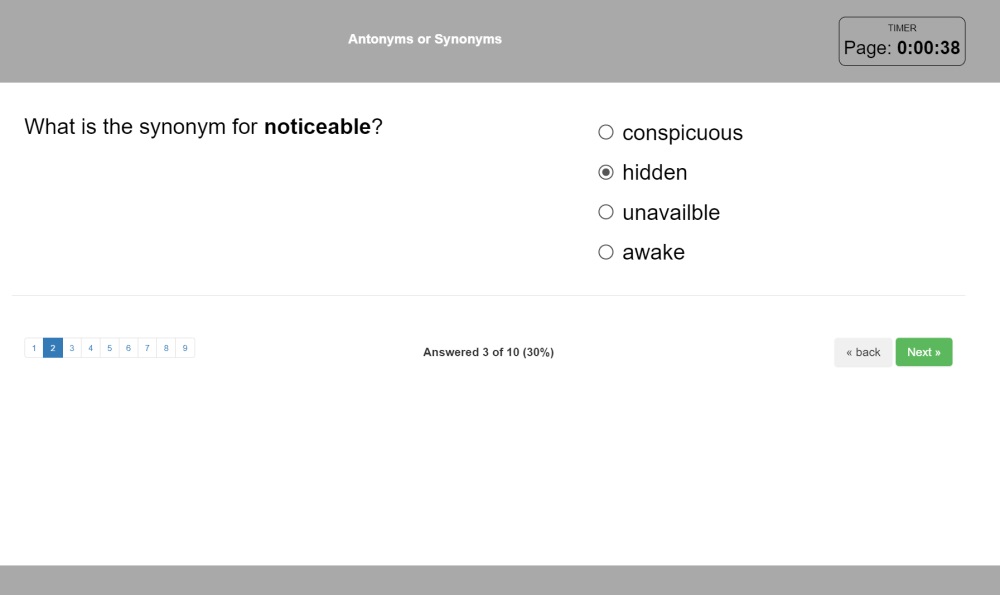 Custom grading and scoring
Our system will score your quizzes:
Awards positive or negative points for each answer option or the whole question.
You can choose to share results during or after the quiz is submitted.
Set grade-based redirects to another test or URL.
Share a custom results page with relevant scores and data.
Show scores per category.
You can show feedback based on a pass or fail score.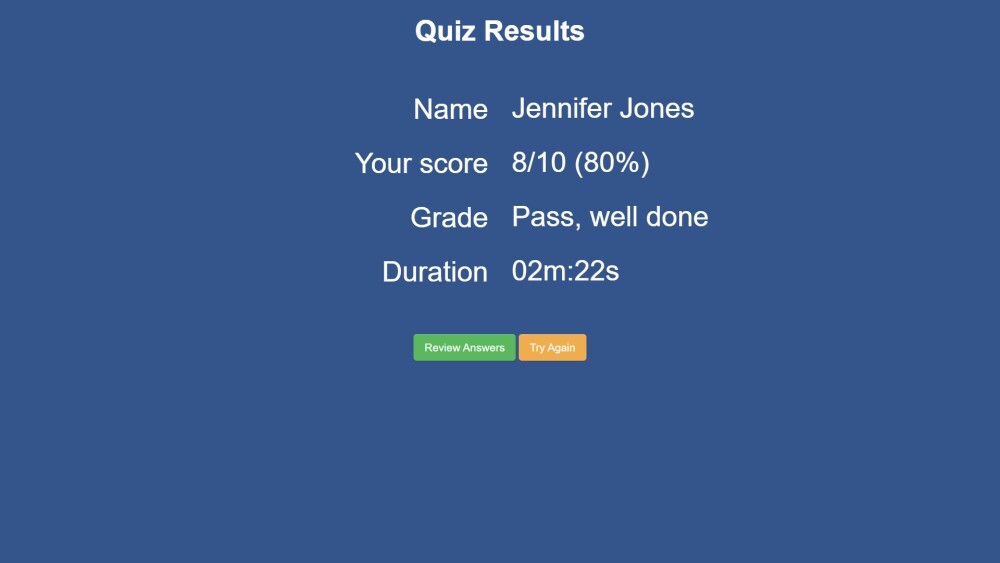 Custom certificates
Create certified online tests that anyone can take remotely and send a certificate when the respondent passes:
You can choose from one of our templates or create your own.
Make your certificate template with your organization's branding and logos.
You may select dynamic fields with test-takers names, score, certificate number and exam completion date.
Quiz takers can download certificates from the results page or email notification.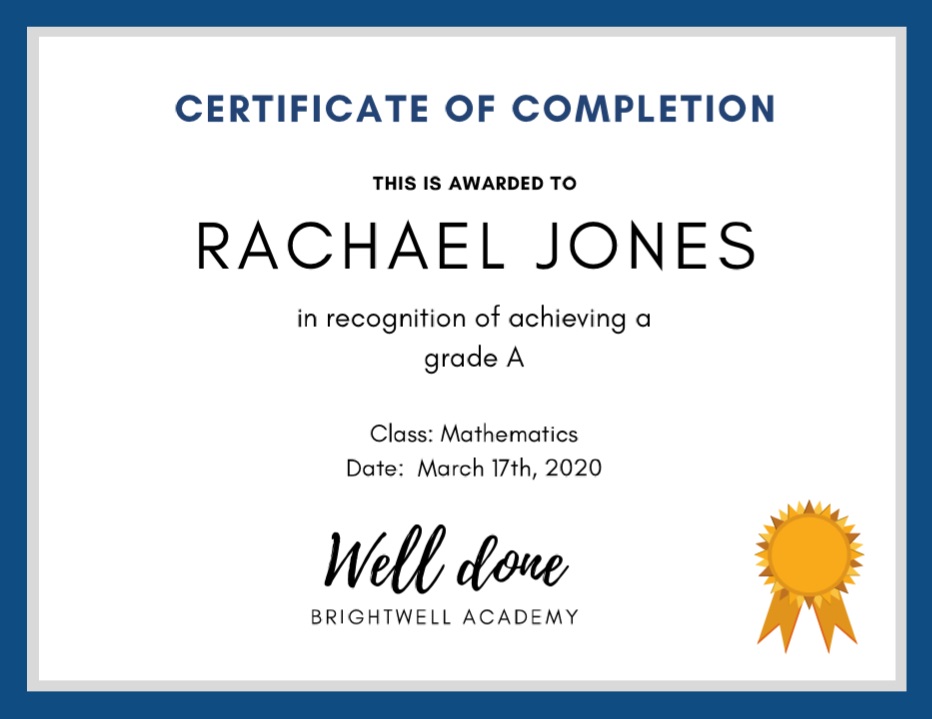 Question banks
A question bank is like a library where you can save all your favorite questions split by category.
You can manually add questions or bulk upload questions using our Excel template.
Every time someone starts the quiz, our system randomly selects the set number of items from the bank's question category.
This feature saves you time and helps avoid quiz takers getting the same set of questions.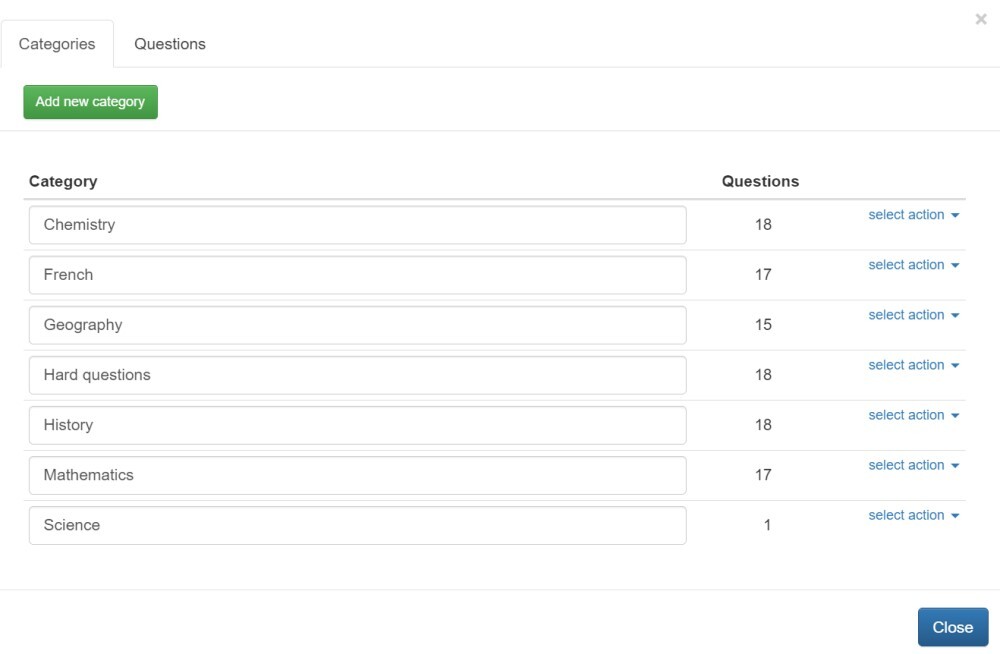 Private and public sharing options
We offer a choice of ways to securely share your online quizzes with students, employees or customers:
Add a custom registration page to capture the respondent's information.
Email a trackable quiz invitation directly from your FlexiQuiz account.
Embed your test on your website within an iframe.
Share a unique URL in your emails, social media pages or website.
Assign to Respondent accounts and Groups.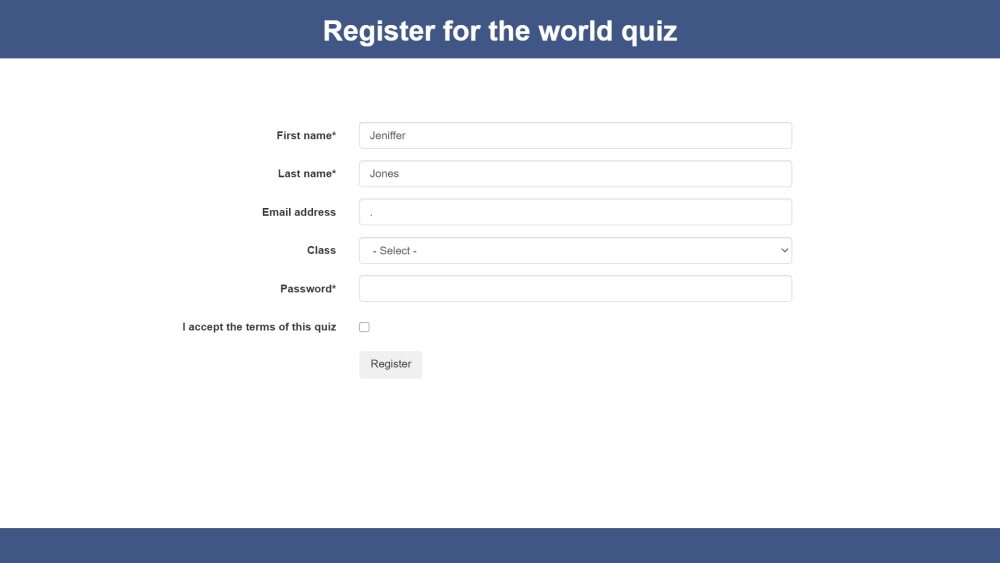 Respondent accounts
A Respondent portal gives your students and employees a central place to manage their quizzes.
Learners log in with their unique username and password to manage assigned tests, assessments and courses.
Customize the portal with your selected fields and organization's logo.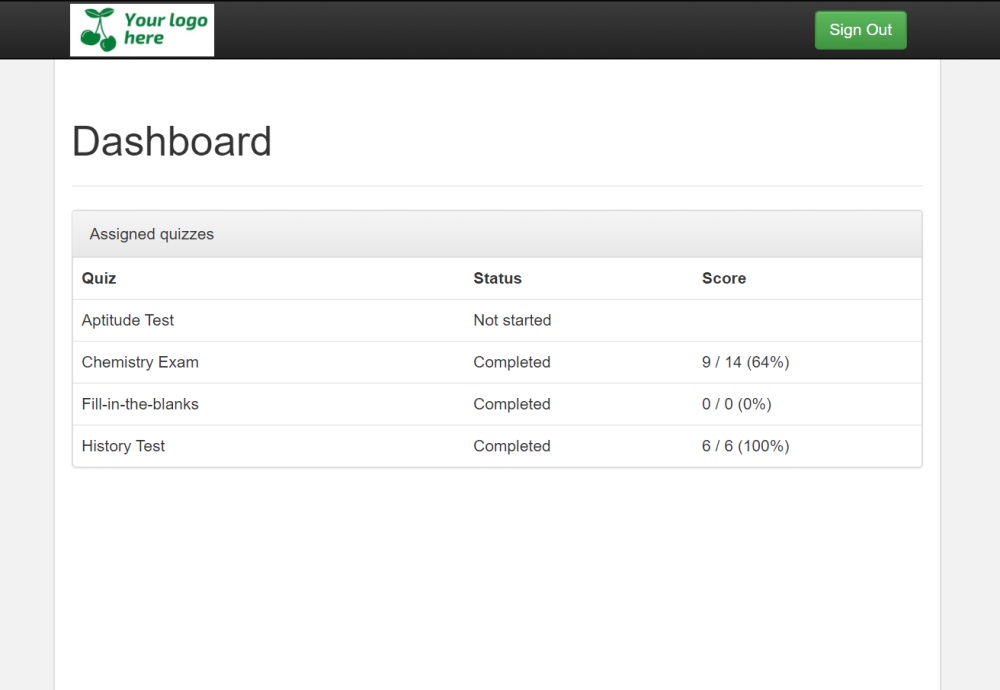 Group management
Groups is a central place to manage a quiz or course for a group of users, such as a class, department or team.
When you assign a quiz or course to the group, all users have instant access based on the rules you set.
Track the group's progress in real-time through various reports, such as a summary of results split by user and quiz.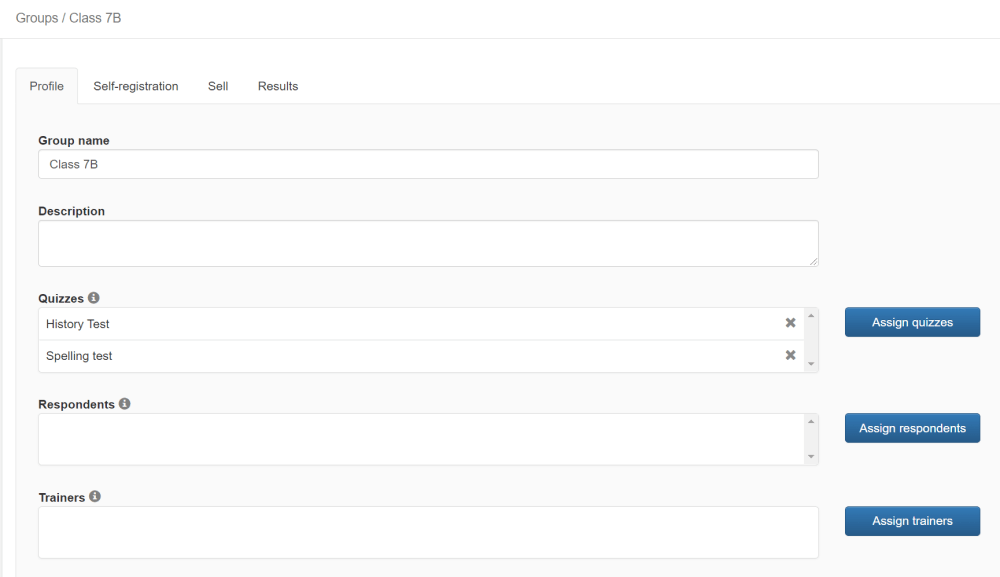 Sell your quizzes, tests, or exams
Make money from your quizzes by adding a custom landing page to sell your tests and courses. Learners cannot access your content until payment is successfully processed:
We do not charge any commission for your sales.
Payments can be processed in multiple currencies using our payment processor, Stripe.
Customize the payment page to include Terms and Conditions, discount codes and information about your product.
Sell a single test or a group of quizzes.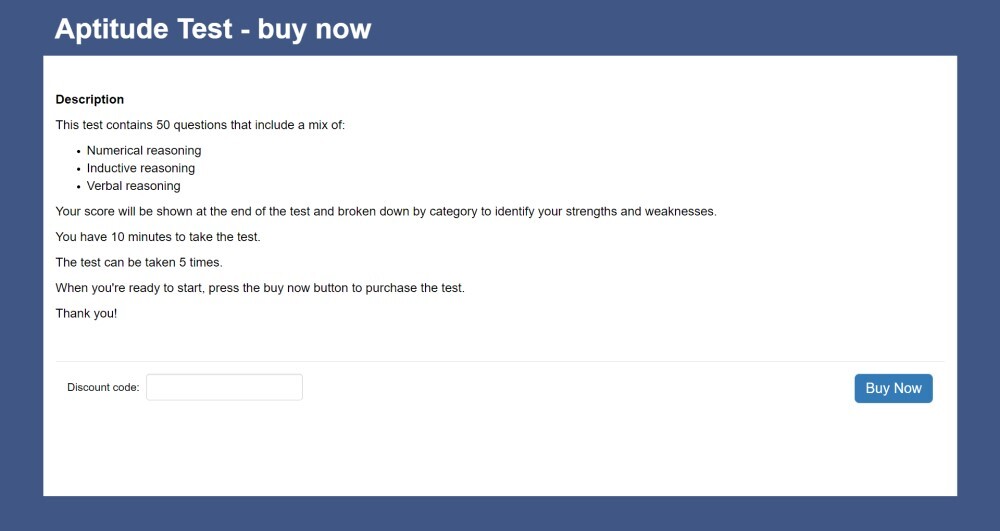 Extra trainer and administrator accounts
Efficiently work in teams across different locations by assigning multiple Trainers and Administrators. Trainers can access assigned quizzes, while Administrators can help manage all quizzes.
You can set various permissions for each user account, including:
Creating and configuring quizzes, tests and courses.
Publishing and sharing quizzes.
Managing results and analyzing reports.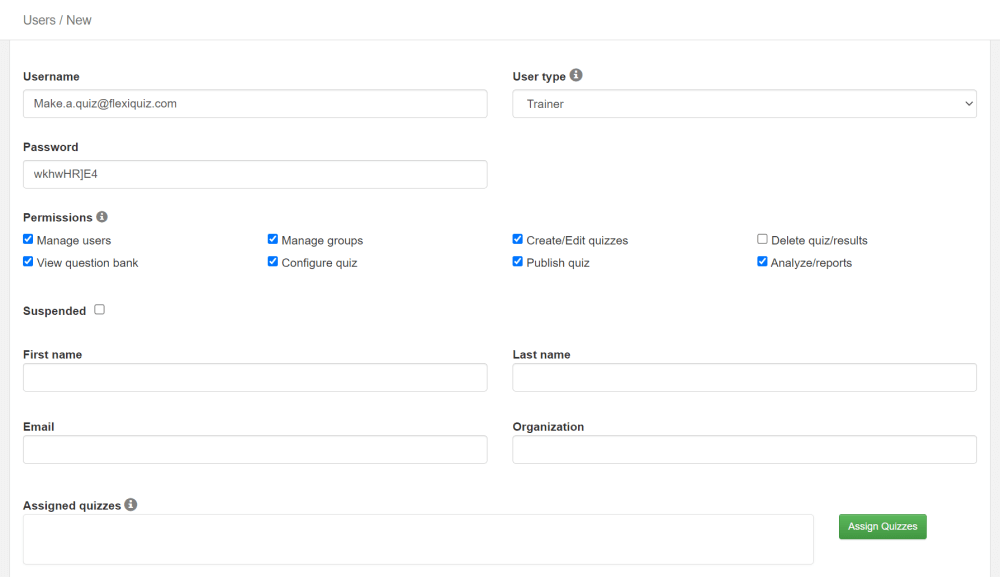 Advanced analytics and reporting options
Assessments scored in real-time with test results instantly available for viewing:
Customize the analyze dashboard with crucial information, such as the number of attempts, grade or date submitted.
Manage results at a test, quiz taker or group level.
View answers provided by individuals or the whole group.
You can download reports in an excel or PDF file format.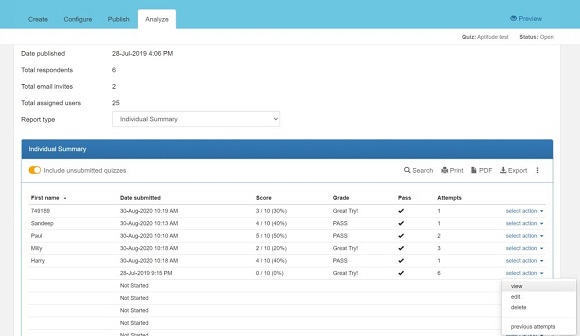 FLEXIQUIZ IS A POWERFUL ONLINE TEST GENERATOR
Build your own online tests and assessments with FlexiQuiz for free.