Blog
/ Creating quizzes in any language
PRODUCT
Creating quizzes in multiple languages
By Joanna Griffiths, FlexiQuiz.
4 minute read.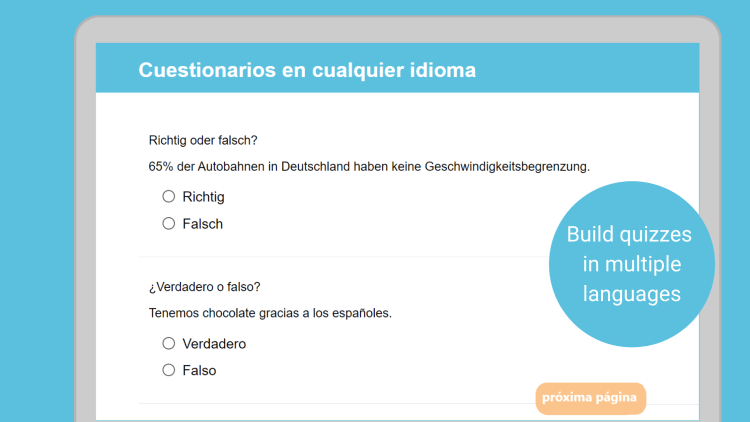 Did you know over 7,000 languages are being spoken worldwide today? According to Ethnologue, there are 7,117 languages currently in use.
That's a considerable number of languages to write, quizzes, tests, and exams!
Thousands of organizations and individuals worldwide use a quiz maker like FlexiQuiz to create all sorts of tests, quizzes, exams and courses in many languages. The FlexiQuiz platform is built so that you can deliver tests in a language relevant to your students or employees. From Hindi to Silbo, Arabic, French, or Spanish, you can create engaging aptitude tests, personality tests, trivia games, or certified exams.
Whether you're a global company, university, or local school, you and your quiz-making team can adapt all parts of the user interface in almost any language. Creating a quiz in a relevant language allows students and employees to focus on answering the questions instead of being disadvantaged by translating instructions, questions, or buttons.
Checklist
Here are all the quiz elements you can write in any language to guide your students through your quiz content.
Questions and answer options
Welcome, thank you, and text/ media screens
Navigation buttons, headers, labels, and messages
Email notifications
Grading
Certificates
Results page
Registration screen
So now, let's explore how you can update each of these elements in more detail.
Questions and answer options
Create a quiz and add your questions as usual. You're able to type your questions and any answer options in any language using any character.
Your test-takers can view the text exactly as you've written it.
The FlexiQuiz software automatically marks and scores answers based on rules you've set for all the usual question types such as multiple-choice, picture choice, fill-in-the-blanks, and matching.
Welcome, Thank you and text/ media screens
Welcome, Thank you, and information pages are essential for setting the scene and providing crucial information for quiz takers.
It's easy to share a 'Bienvenue' in the appropriate language to help participants feel at ease with the test they're going to take.
Simply type your text in any language on the page. You can also add pictures, video, and audio to provide relevant information in the appropriate dialect.
Navigation buttons, headers, labels and messages
The FlexiQuiz interface is designed to be simple and easy to use for all quiz takers. However, headers, buttons, labels, and messages are also a meaningful way to guide test-takers through your quiz while ensuring they remain focused on answering the questions.
Paid plan members can translate all of this text through the Theme screen. Scroll down the page to the register button. The Themes page shows all of the text for buttons, labels, and messages that you can add to your quiz for test-takers to view - if you think we've missed anything, then please drop us an email.
Type your new text over the existing text, and it will automatically save.
Email notifications
You can select to send email notifications to let Respondents know that an account has been created or to share results with test-takers.
Enterprise and Premium plan customers can customize the subject lines and messages.
Test-takers can download reports and certificates that display almost any character in any language.
Learn more about creating and sharing account notifications or results email notifications.
Grading
Grades help students understand how they've performed. A grade can be as simple as A, B, C, or you can provide additional information such as 'excellent - you understand the subject of this project.'
To update grades, go to the Configure screen and select Grading from the left-hand menu. You're able to change any of the existing text to your chosen language.
Certificates
Certificates are an engaging way to recognize the student's achievements and create a friendly sense of competition.
If you're on the Premium or Enterprise plan, you can upload your custom certificate with a background that reflects your brand and chosen language.
You can configure all the fixed and dynamic text on your certificates in almost any language. Simply go to the Certificates screen and add your text to the relevant line items.
To ensure the test-takers name is displayed correctly, you will need to capture the information through a respondent account or registration page. When changing the field names on the registration page, they need to match the certificate's dynamic fields.
So if you change the First Name to Nom on the registration page, make sure that the system knows it needs to look for the Nom. This guide will give you more information about creating a custom certificate.
Find out more about adding and sharing custom quiz certificates.
Results page
If you choose to share a results page with participants, you can translate headers, data, and any messages.
To update the labels, go to the Theme screen and scroll down the page to Results page label.
To provide a custom pass or fail message, you will need to go to the Results screen and add your text.
Registration page
You can add a registration page to the start of your quiz to capture extra information about the test-taker, and it also provides some extra security.
The registration fields can be written using any character and can capture information in any language. The page can include fields such as name, email address, identification number, or department.

You'll need to configure the analyze table and certificates if you're translating any of our existing registration headings, such as changing the First Name to पहला नाम or Naam.
When looking at the analyze results table, if the first name text is changed in any way, your test-takers data won't show in the First name column. To view your data, press the three buttons on the top right-hand side of the table. The pop-up will display all of your registration fields, and you can select the relevant columns to show on your analyze dashboard.
With certificates, if you change the registration fields, the pre-defined tags will need to be updated.
Find out more about creating a custom registration page.
Top tips!
We recommend that you don't copy and paste text from a word document. A word document can contain some additional formatting that Microsoft has embedded. The formatting information can distort the text shown on the page. We'd recommend adding the text to a plain text document, such as a Notepad program on Windows or TextEdit or TextWrangler for Mac.
Try our Spanish test to see how a quiz can look in another language or start creating your own test straight away.
Back