Help
/ Trivia quiz inspiration
Trivia quizzes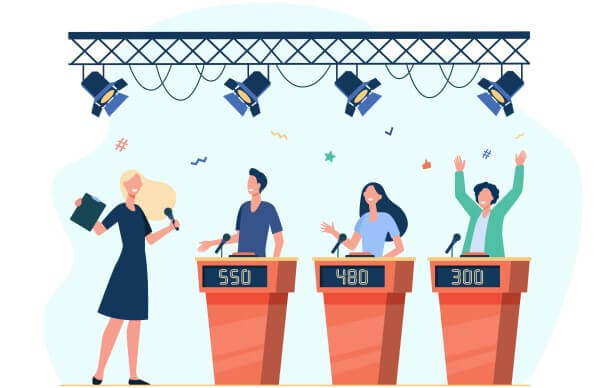 Trivia quizzes typically consist of a host asking competitors amusing, sometimes ridiculous, and entertaining questions. Subjects can range widely from sports, wildlife, or history to 80s music, biscuit flavors, or naming the famous baby. The best thing about trivia quizzes is that just about any topic works.
Good trivia quizzes are inherently fun and enable people to compete against each other to demonstrate who knows an obscure fact or niche tidbit.
In recent times, virtual trivia games and quizzes have become a hugely popular way to connect with colleagues, family, and friends. You just need some great questions and an online tool to manage the experience.
You can host trivia quizzes with everyone in a room or remotely with people worldwide. It's easy for contestants to respond online with a smartphone, laptop, or tablet using a quiz tool such as the FlexiQuiz, trivia maker.
FlexiQuiz allows you to create a live quiz event where everyone plays along together. Or, you make and share a classic quiz that contestants answer at their own pace.
Take a trivia quiz today
Do you think you're a bit of a trivia buff? Try these trivia quizzes to find out how much random information you know.
Sports
This is a general knowledge test about sports various from across the world. The question types are mixed, including MCQ and fill-in-the-blanks. Take the sports trivia test.
Friends TV show trivia
Are you a fan of the 90's show Friends? Take this quick trivia quiz to find out how much you remember.
Movies
Test how much you know about movie stars and pets with our matching trivia quiz.
Euros 2020 football challenge
Take this quick quiz to find out how much you know about the Euro championships.
Car trivia
Do you love cars? This fun trivia quiz will test your knowledge of various aspects of automobiles.
General trivia, who wants to be a millionaire style
Guess the logo
What year was it?
Random trivia
This quiz includes random questions from all trivia categories. At the end of the quiz, you will find out your total score and a score split by category. Category scores enable you to identify your strengths and weaknesses.
Hosting a trivia quiz
When it comes to hosting a trivia quiz, you can base your questions on just about anything. The important thing is that the questions are relevant to the target audience to engage and provide an opportunity to get the answer correct.
You can even base your questions on how well you know your family, friends, or work colleagues.
These are some ideas to make your quiz more interactive, challenging, and fun so that it's a trivia game for everyone to remember.
Add time limits to prevent people from researching the questions and create a sense of urgency.
Award bonus points for key questions.
Add media such as photos, images, YouTube videos, or music.
Randomly position the correct answers on the multiple-choice questions.
Use various question types such as picture choice, uploading images, fill-in-the-blanks, multiple-choice, or matching.
Share certificates to award people for taking part or doing well.
Build your own test in minutes
Ready to build your own test on your specialist subject?
Impress friends, family, and colleagues by creating your own entertaining trivia quizzes.
It's easy to build and share engaging trivia quizzes with these great features from FlexiQuiz:
Instant score calculation
A choice of 9 question types
The ability to add videos, images, and music
Time limits by question or the whole quiz
Compatible with any smartphone, tablet, desktop, or laptop
Ability to take quizzes using 3G, 4G, 5G, or Wifi
Quizzes can be taken anytime, anywhere.
Host up to 400 players at one time:

Free: 20 players
Essentials: 100 players
Premium: 200 players
Enterprise: 400 players

Feedback form at the end of the quiz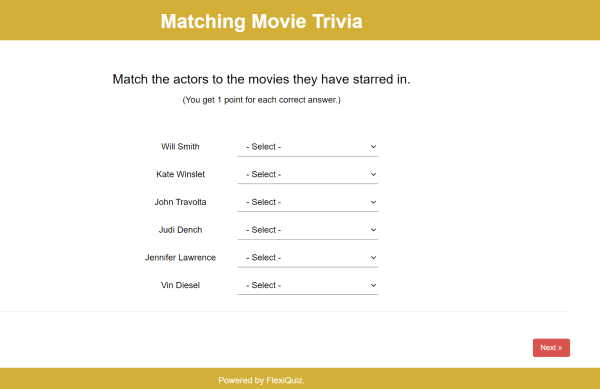 Are you feeling inspired to make your own trivia quiz?
Back