Help
/ Ways to share your online quiz
Sharing your FlexiQuiz
Once you've created your online quiz or course, you'll need to decide how you want to share your FlexiQuiz with others.
You can share it publicly as part of your blog or social media campaign. Or you can keep the content private, such as formal examinations, selling courses or compliance testing.
By sharing your content online, responses are tracked, saved and automatically scored.
This article looks at the ways you can share a classic quiz or course.
Quiz link
FlexiQuiz provides a URL linking directly to your online quiz, registration or sales page.
The quiz link can be copied and pasted into your channels, such as emails, blogs, social media or web pages. Paid plan members can also personalize the URL so it looks more user-friendly.
This distribution option provides flexibility and works well for a variety of reasons, for example:
Publicly sharing an interactive quiz to drive leads or brand awareness.
Selling quizzes or courses.
Sharing a quiz that people choose to take.
Top tip! To track who responds to your quiz, you need to add a registration page, as without this the FlexiQuiz system is unable to identify participants.
Learn more about sharing a quiz link.
Send email invitations
You can send a custom email to participants directly from your FlexiQuiz account. Enterprise customers can use their own email address with our SMTP integration.
Each email contains a unique URL for learners to access your quiz. This unique link enables our software to track when learners access your test and submit their responses.
The option works well when you know your target audience, such as your students, employees or a marketing audience.
The benefits of email invitations are:
Easily track and manage whether learners have started or submitted the quiz.
Students don't need to register to complete the quiz; our system can track their responses with the email address you provide.
It provides additional security and minimizes cheating by limiting the distribution of your quiz.
Learn how to send and manage email invitations.
Assign to Users
You can assign a quiz to a user's Respondent, Trainer or Admin account.
Users log in to their account with their unique username and password. From their dashboard, they can view and complete any assigned quizzes.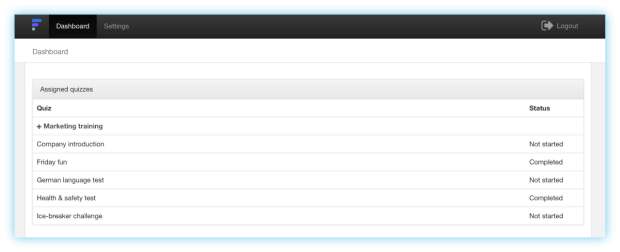 Benefits of assigning quizzes to users:
Allows learners to access all their training content in one place.
Allows you to track learners' progress easily across multiple quizzes.
Learn how to assign tests to Respondents.
Assign to a Group
Assign the quiz to a group of users or as part of a group of tests.
Groups allow you to manage multiple users, quizzes and training content in one place.
Benefits of using groups:
It's an efficient way to manage a large group of learners.
You can share content for learners to complete as part of a course.
Allows you to manage learners in groups, such as a class, department, location or team.
Learn more about FlexiQuiz groups
Embed a quiz
You can embed a quiz and Respondent account on your site, so that users never have to leave your website to take a test. You can also embed a quiz on other platforms, including Shopify, Wix, WordPress, Blogger or Joomla.
FlexiQuiz will provide you with some HTML code within an iframe to add to the website.
The embed options work well if you want to provide a branded experience for your test-takers. For example:
Selling quizzes, courses or examinations directly from your website.
Sharing quizzes with students or employees.
Learn more about how to embed a quiz.
Print a quiz
You can also create a printable quiz to share with learners on paper.
This option works well for the following question types: multiple-choice, picture choice, fill-in-the-blanks or free format.
Quizzes that are printed will need to be scored and managed manually.
Learn how to print out your quizzes.
Important! No matter how you share your FlexiQuiz, remember to publish your quiz when you're ready for learners to view it. People cannot see your content when the test is 'in design' or 'closed.'
Relevant help guides:
How to share and host a live quiz
How to create your first classic quiz
Back