Blog
/ Eleven ways to stop cheating
Eleven solutions to deter cheating in a quiz, test or exam
By Joanna, FlexiQuiz.
5 minute read.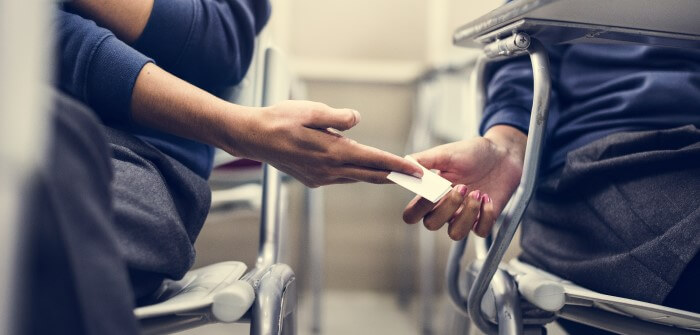 Cheating can be a way for students to gain an unfair advantage by breaking the rules during an exam.
Students may be completing important final examinations, annual tests or mock tests either remotely or in the classroom. Almost every exam situation is unique. As such, we provide a range of options that can help you create a custom secure online test.
We can't guarantee that we will stop cheating 100% of the time but by using some of these features on your tests, you will limit people being able to cheat during the exam.
This article shares our top eleven ways to minimize cheating on your tests.
1. Secure access to your quiz content
It's vital to ensure only authorized participants can join your quiz. This prevents others from viewing your exam in order to research or share questions and answers.
You can set this to your needs by configuring the quiz and choosing a suitable distribution option.
Your options are:
Send an email invitation
Invite test takers to complete your exam by sending a custom email directly from your FlexiQuiz account.
Each test taker receives a unique and trackable link to access your online quiz based on:
Respondent portals

Respondent portals are another great way to limit who accesses your quiz, when they can access it and how often.
Test takers can log into their Respondent portal using their unique username and password. They can view and complete open quizzes that you have assigned to them.

Using a quiz link

If you need to share your exam with selected people only, we recommend email invitations or Respondent portals.
However, you can also share your exams with a quiz link and keep your test content secure.
When sharing with a quiz link, add a registration page to validate who is joining your exams. For example:

Add a mandatory password so that only test takers with the correct code can join the quiz. However, people can use the same code multiple times with different names, so you will need to track this using the IP address on the analyze screen.
Allow only one person with unique registration information to join, e.g., surname, employee or student ID number.
2. Validate who is taking the test
Check who is taking your quiz by asking test takers to upload a picture, signature or a unique piece of information.
With FlexiQuiz, you can allow students to upload images and documents using the file upload question type.
If you ask test takers to confirm their identity on a separate quiz, you can check that the same person takes the test by matching their IP addresses. The IP information is available on your Analyze dashboard.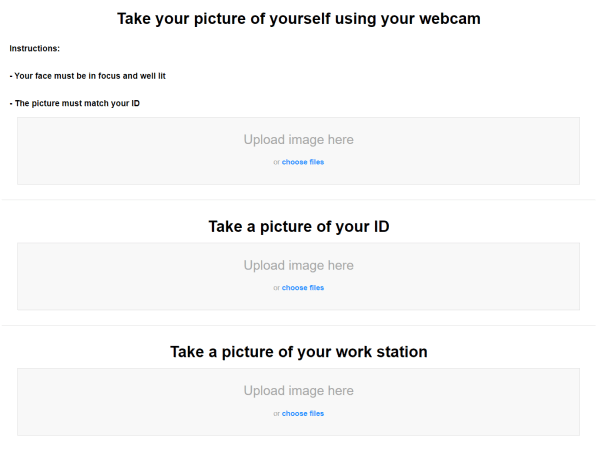 3. Share different versions of the same test
To deter students from looking at a classmate's screen or chatting about the exam content, we recommend sharing different versions of the same examination. It is harder to copy from someone's screen or discuss questions if they are slightly different.
FlexiQuiz has a couple of options:
Randomize the order of the questions
Shuffle the order of some or all of the questions in your quiz. Test takers will all get the same questions but in a different sequence.
Pick a random set of questions from the question bank
The question bank allows you to store all your best questions split by category. Each category can be based on a similar question type and difficulty level.
When building an exam, you can select how many questions you would like the FlexiQuiz system to pick from each category.
Every time the quiz is taken, the system randomly chooses the set number of questions from the bank. If many questions are stored in the bank, then it's more likely that each student will get a different group of exam questions.
4. Limit the number of times students can view the questions
If you minimize the number of times students can view your questions, it gives them less opportunity to look at the information, research it and complete the quiz later.
There are a few options:
Maximum quiz attempts. Set a limit on the number of times students can complete your online exam.
Prevent backtracking. You can configure the test to allow students to view one question at a time. When they submit their response, they move to the next question and cannot go back to view or change their answers.
Only allow students to retake the quiz if they fail. Top tip! To ensure the exam remains challenging when students retake, you can use the question bank. This means that students could be shown a different set of questions with a similar level of difficulty every time they take the exam.
5. Include a free format question
Free format is an open-ended question that allows test takers to share workings, information and feedback. A free format question reflects the student's unique thinking and approach, which means every response should be slightly different. If several students are giving the same response, it can alert you to possible cheating.
With FlexiQuiz, you can add free format questions using the free text question type that allows students to type their text directly onto the FlexiQuiz system.
In addition, you can add a file upload question type where students can attach a file with their calculations and thinking.
6. Limit the time allowed for each question
Add time limits for the whole quiz or a page. The time limit should allow enough time for students to consider their responses but not too much time that students can research the answer.
With FlexiQuiz, you can set a time limit for the whole quiz, page or both.
Learn more about setting time limits on your examinations.
7. Prevent test takers from copying and sharing your questions
There are several ways that you can stop test takers from being able to copy and share your questions easily.
Firstly, delay sharing the PDF of responses until everyone has submitted their test. With FlexiQuiz, you can customize the results page and email notifications to show relevant information at the right time.
In addition, you can limit the ability of students to copy, cut or print the FlexiQuiz screen. You can configure these options on the Configure/General tab.
8. Remind students of any academic integrity policies
Creating academic integrity or codes of conduct guidelines can ensure your students know the policy and consequences for cheating.
Psychologically students may think twice about cheating if they've just had a reminder of the policy before the quiz starts.
With FlexiQuiz, you can add a policy to the welcome screen that's easy for students to view just before starting their examination. You can share the policy in writing or even by using a short video.
9. Let students know that you can identify cheating
As a web-based software solution, FlexiQuiz provides powerful reporting to help make it easier for you to identify anyone with suspicious behaviors. Reminding students that reporting is available might make them consider their actions.
Key reports include:
Common unusual responses.
10. Prevent the use of other browsers and sites
There are various solutions to lock the student's browser when they are taking a test. This stops test takers been able to open other windows to research or look up answers.
We recommend using Safe Exam Browser to share your FlexiQuiz tests and examinations. The application needs to be downloaded onto the device used by the test taker.
Learn more about sharing your FlexiQuiz exams with Safe Exam Browser.
11. Proctor the exam
Proctoring allows teachers or supervisors to watch students completing an exam.
There are several tools to help you proctor tests and exams online, such as monitoring the student's screen, watching them on video or tracking which buttons are pressed.
Currently, FlexiQuiz does not offer a built-in exam proctoring service.
However, you can ask students to share their FlexiQuiz screen using online applications such as:
We are continually looking at new and innovative ways to make online testing more secure. Follow us on Facebook or Twitter for the latest developments.
Back