Help
/ How to make your quiz private
Creating a private quiz
FlexiQuiz gives you the option to share your quiz content privately or publicly.
A private quiz means that users need permission to access your content- typically used for, exams, recruitment testing, internal staff training or selling quizzes.
While a public quiz is defined as a test that anyone can access with a relevant URL - this solution works well for blogs, social media and marketing activity.
This guide shows you how you can create a private quiz, test or assessment with FlexiQuiz
Choose how to share your content privately
Once you have created and configured your content, select the right privacy option to meet your needs. The options are:
Send an email invite direct from your FlexiQuiz account
Add a registration page with password protection
Add your quiz to respondent accounts that are associated to your main account
Create a payment page (for use when selling your content)
Scroll down this page to learn more about these options >>.
Option 1: Sending a quiz by email invite
FlexiQuiz, will send an email, on your behalf, to the email address list that you've defined. The email will contain a unique URL that can only be accessed based on the rules you've set up.
Top tip! We can't stop people forwarding your email, but you can limit the number of times people are allowed to take your test
To set up:
From the Publish tab, select Send Email Invites
Enter the email address for the people you would like to invite to take the test
Edit the email subject line and body of the email text, if required
Important - do not edit the Unique Link that is highlighted in blue
Open and Publish your quiz
FlexiQuiz will send a Unique Link to everyone on your email address list. You can track whose started and submitted the test from your Analyze tab.
Learn more about sending email invites
Option 2: Adding a password or code to access the quiz
You can add a password or number to a registration page at the start of the quiz. People can only access your content by entering the correct text.
To set up:
From the Publish tab, select Use Quiz Link
Tick Register for Quiz
Press customize fields
A new window will open with the heading Registration fields - this is to list all information you would like quiz takers to provide for accessing your content
Press Add field
Go to the column Type, from the drop-down menu select Password
Enter your chosen password - this can be letters and/or numbers
Tick the box Required to make sure people can only enter the quiz by entering the correct password (or pass-code)
To help identify the quiz taker you can also add other fields (such as username, employee number)
Press Close
Open and Publish the quiz
Share the password (and a link to the quiz) with your selected participants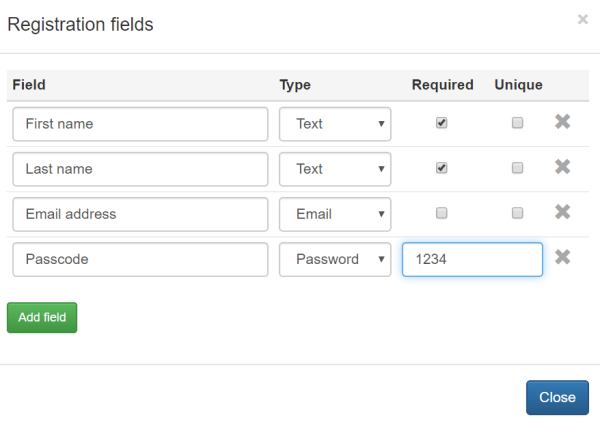 Option 3: Respondent accounts
Create respondent accounts so that quiz takers can sign in with a unique username and password to manage all quizzes, tests or courses assigned to them..
To set up:
From the Publish screen, tick Assign users/ Groups
If you have not already created a respondent account, press create new user and enter the required information.
If you have already created a respondent account, press Assign user
Highlight the relevant respondent
Press >>
Repeat the process for each respondent you would like to share the quiz with
Press Save
Publish the quiz
Respondents can login to their private FlexiQuiz accounts and access the test straight away
Option 4: Add a payment page
If you are looking to sell your quiz, test of course, add a payment page so that people can only access your content when the payment has been processed.
To set up:
From the Themes tab, select Sell from the left-hand menu
Connect your Stripe account
Complete all the fields on the FlexiQuiz sell page
Open and Publish your test
Learn more about selling your FlexiQuiz content.
To add further security to your tests, refer to this blog on solutions to deter cheating
Back