Help
/ How to print your quiz
Quick and easy ways to print quizzes
FlexiQuiz is a free online quiz maker that can print test papers for students to complete an off-line examination.
All tests completed off-line will need to be manually scored. However, you can record the scores on your FlexiQuiz account for future reference.
This guide shows you how to:
Print an examination for test-takers to complete off-line.
Plus, how to print a copy of the questions and answers.
How to print your quiz for test-takers
Log into your FlexiQuiz account and create an online quiz, test, or examination.
From the Create screen, press Print on the top right of the page.
Ensure you're connected to a printer, set up the page, and press print.
You can now share the printed quiz with students.
Note! The following features and questions are not available on a printed quiz.
Question bank
Randomization
File upload question type
Single choice (drop-down) question type
Videos and background themes
Progress bars, time limits, and many other tools that require an internet connection.
How to print questions and answers
FlexiQuiz doesn't offer a specific solution to print quizzes and answer options. However, you can print questions/ answers through the analyze screen when you've submitted at least one examination.
Login to your FlexiQuiz account. Create and configure your online test.
Publish the quiz.
Complete the quiz as a test-taker.

Note! When you take the test, it doesn't matter if you get the answers right or wrong. If the questions are not set as required, you may be able to go quickly to the end of the test and press submit.

Go to the Analyze screen.
Next to Report types, select Response Summary

This report lists all of your shared quiz questions with the correct answers highlighted.

Important! If you've configured the system to select a few questions from the question bank randomly, the report will only show the items shared with test-takers.

You can choose to print this report as a PDF or export the data into an Excel document.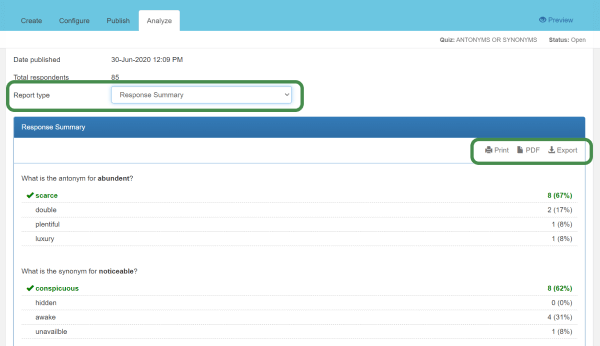 Relevant help guides
How to analyze your quiz results
Question types
Back