Help
/ Selling quizzes, tests and courses landing page
Add a landing page to sell your quiz
The sell page is a landing screen that allows you to promote your quiz and collect payments.
The sell page integrates with our payment processor Stripe. Once you add your Stripe account and configure the selling page, you can start accepting payments for your quiz.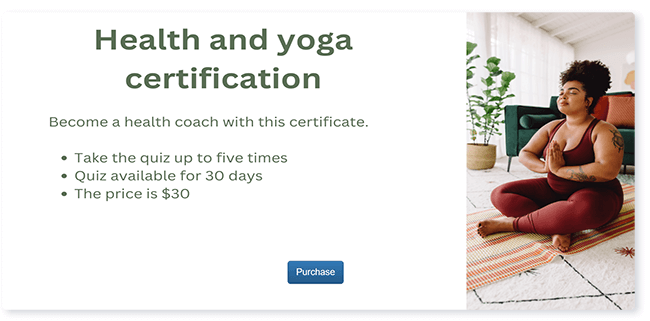 FlexiQuiz sell allows you to share your landing page with a link on your emails, social media accounts or embed it on your website.
This guide shows you how to add a sell page to your quiz.
How to add a sell page
To start, make an awesome quiz with FlexiQuiz.
Once you have created your quiz, go to your Configure screen and select Sell from the left-hand menu. The sell configuration screen will appear for you to start building the landing page.
To add the sell page, tick the box Charge for quiz access. If you tick the box, customers can only access your test if it is open and payment is successfully processed through Stripe.
Press the blue Create / Connect button to connect your existing Stripe account. If you do not already have an account, you can sign up with Stripe. Follow the steps that show on the Stripe pages to complete the connection.
You can change the Mode from Live to Test to preview the customer purchase journey. You can buy the quiz using a Stripe same card when the Test mode is selected.
Next, set how much you want to charge for the quiz. Enter the amount in the Price box and select the currency by pressing the drop-down menu.
You can add the content for the page using the Description box - this can include a summary of your quiz, reasons to buy, T&Cs and essential information such as maximum quiz attempts.
You can style the quiz to reflect your brand using a background image, change of colors and fonts.
There is an option to change the text of the purchase button. Simply add your new text in the box.
If you want to allow customers to get a discount using a code, press the blue Add code button and fill in the required information. Learn more about adding discount codes.
Publish and share your sell page by embedding it on your site or using a quiz link or email invitation.
Relevant help guides
How to sell a group of quizzes or a course
Relevant blogs
A beginners guide on how to make money selling quizzes
Save time with our favorite automations
Back