Blog
/ How to make an online exam
PRODUCT
How to make custom online exams
By Ian, FlexiQuiz.
5 minute read.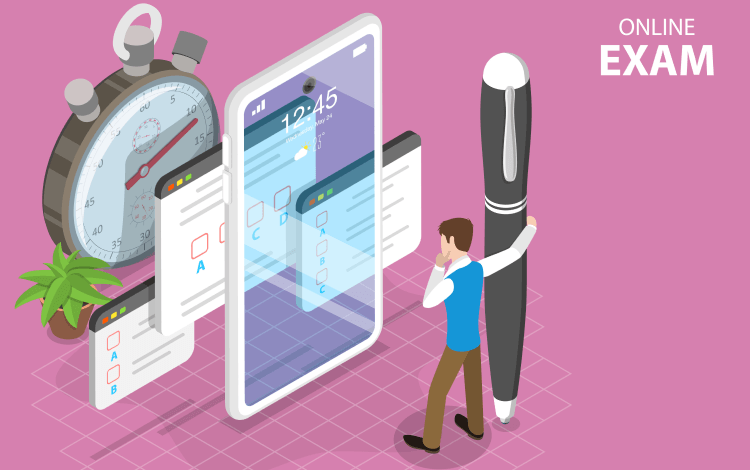 What is an online exam?
An online exam is a formal test taken on an electronic device that measures a student's knowledge or ability in a subject.
Online exams provide the flexibility and security for student's to complete the test in the classroom or remotely.
Reasons for taking an exam
There are many motivations for people to take an exam. Examinations often start at primary or elementary school and continue throughout an adult working life. However, some may be more formal than others.
These are a few examples:
To gain a qualification.
Tracking progress such as midterms in the USA.
National school examinations such as GCSE and A levels in the UK.
Regulatory compliance.
Certifications.
Pre-employment testing.
Sales and product training.
Technology training.
Top 12 exam making features
1. Variety of question types
A wide range of question types allows you to measure different aspects of a student's understanding and ability in various subjects.
For example, file upload questions allow students to share a recording demonstrating their communication skills as part of an oral exam. However, multiple-choice questions can be easily marked and graded objectively without bias.
Learn more about our different question types.
2. Welcome pages
A welcome page allows you to share important information with students before they start the examination.
You can create a custom welcome page that includes text, images, and audio. You can also creatively share a video of the teacher providing clear and explicit instructions for the exam.
The welcome page sits at the start of the examination with no marks or time limits applied.
Learn more about adding a welcome page.
3. Question bank
Writing fair and measurable exam questions takes time. The question bank allows you to store and manage your questions by category for easy access in the future.
You can quickly create an exam using questions from the bank by choosing how many items you would like from each category.
The FlexiQuiz system randomly picks your chosen number of questions each time the exam is taken. Each student may get a different set of questions that helps to prevent cheating. However, all questions are randomly picked from a set of questions on a similar subject and difficulty level.
Find out more about the question bank.
4. Timers
A time limit can help you to:
Assess how a student performs under pressure.
Ensure everyone is measured equally.
Prevent cheating by allowing students enough time to assess and answer the question without searching for the answer.
FlexiQuiz offers you the choice to add a time limit for the whole test, page, or question.
5. Custom grading
Grading is an evaluation of a student's work quality based on their responses given in an exam.
Generally, the higher the grade, the better the student has performed.
Grades are important as they can determine college admissions, job applications, and progression at work.
FlexiQuiz allows you to set the grade boundaries with the minimum marks required for student's to achieve each grade.
6. Maximizing attempts
Set a limit on how many times students are allowed to take the exam. Maximizing quiz attempts prevents students from viewing the questions and then researching the answers or sharing with others.
In some instances, you may only want to allow students to retake the test if they fail.
Learn more about setting the maximum exam attempts.
7. Preventing cheating
Examinations are essential as they allow educators to understand a learner's understanding of a subject - including strengths and weaknesses. Formal exams can count towards college and university entry or career progression.
Therefore, a teacher must know the work submitted with an online exam is the students own.
FlexiQuiz offers a full range of options to prevent and identify cheating attempts such as randomizing questions, preventing screen copy, and tracking time per page.
This blog provides information on how you can minimize cheating.
8. Share results straight away or later
It's not always appropriate to share results with test-takers straight away. For instance, you may want to allow all students to complete the exam first or check responses.
With FlexiQuiz, you can customize when and how you share results.
Share a results page with custom information.
Add a thank you page to the end of the exam to thank people for their responses.
Redirect students to another examination, survey, or URL.
Send a custom email when the quiz is submitted or after the scores are validated.
9. Powerful reporting
All results are automatically saved on your analyze screen as soon as a student starts your exam.
A full range of downloadable reports are available, including:
The percentage of students that select each answer option.
Group performance.
Scores split by category.
Time taken per page or the whole test.
Points awarded per question based on your settings.
10. Trainer accounts
Trainer accounts make it easy for you to develop the exam with subject matter experts within your organization.
Each teacher can have a Trainer account with a unique username and password and teachers can access assigned quizzes based on the permissions set.
Learn more about Trainer accounts and customizing the permissions.
11. Scheduling exam start and end times.
Set the time for the exam to automatically open and close.
Students can only access the exam content with the test is open. By setting an automatic start and end time, it enables you to schedule the exam
Find out how to schedule a start and end date.
12. Certificates
For certified exams, you can automatically issue a custom certificate to test-takers.
Certificates can include the test-takers name, date of completion, expiry date, your logo, and a signature from the examination body.
How to create an online exam
FlexiQuiz exam software allows you to manage the entire exam cycle in one place - from planning and system configuration to scoring and grading.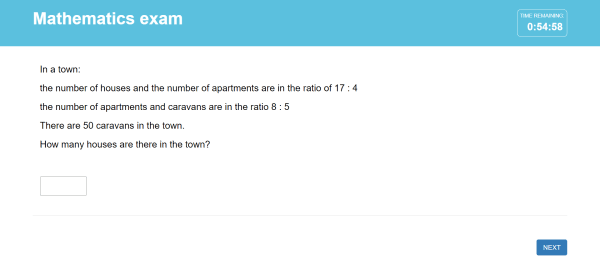 This is how you can generate an online exam in six easy steps.
Step 1: Add your questions to the FlexiQuiz platform
Login to your FlexiQuiz account or create a free account.
From your main dashboard, press Create a quiz and enter a name for your online examination.
Choose how you would like to add your questions. Your options are:
Manually: Enter each question one by one.
Bulk upload: Import multiple questions using the FlexiQuiz excel template. Top tip! You cannot include videos, images, and audio in the excel file upload.

Step 2: Format the questions

Your formatting options are:
Required: Choose if a student must answer the question before moving to the next page or submitting the exam.
Category: Add the question to a category in the question bank. Categories allow you to measure the student's performance by topic or subject.
Randomize option: Shuffle the order of the answer options displayed each time a student takes the test.
Step 3: Set the scoring for each question
Set how many points you would like to award or deduct for each response. This set scoring provides standardization of marking and allows the FlexiQuiz system to grade the exam.
Your options are:
Award points for getting the whole question right.
Partial points for each element of the question answered correctly.
Negative points for an incorrect response.
You can manually score file upload and essay questions or change the points awarded for other question types.
Step 4: Configure the exam
FlexiQuiz offers a full range of options to configure the online assessment that helps you deliver a measurable exam customized to your objectives.
Our most popular features are listed above.
Step 5: Customize the grading to meet your objectives
Build custom grading with the required number of points each student needs to achieve the grade.
Grades can be shared straight after the test or later using email notifications.
Step 6: Check, publish, and share your exam
We suggest that you try your examination to ensure everything works how you intend it to for the test-taker. If you have other teachers in your team, you can also give them access to check the build.
To securely share your quiz with the intended test-takers, we recommend:
Top tip! You can limit the number of quiz attempts to ensure students cannot take the exam multiple times to get their desired result.
Enjoy making your next online exam!
Back