Help
/ How to create a FlexiQuiz account
Creating a FlexiQuiz account
It's easy to set up a FlexiQuiz account so you can start creating and sharing quizzes straight away.
This guide shows you how to create a FlexiQuiz Administrator account to make and manage quizzes, tests, or assessments.
Note! If you would like to create a Respondent, Trainer, or additional Admin account that is part of an existing FlexiQuiz workspace, refer to our Users guide.
How to create a free FlexiQuiz account to make and manage quizzes
You can sign up from this page; just click the blue Sign up button in the top right.
This opens the registration page for you to enter your username, name, and password.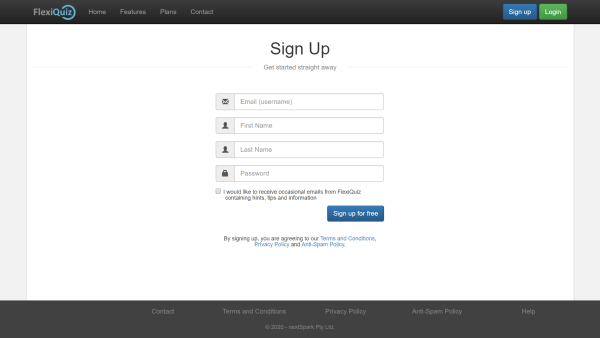 Summary of minimum required information:
Email (username): you will use this to log in to your FlexiQuiz account. Your username needs to be an email address and unique (not used on any other FlexiQuiz account).
First name
Last name
Password: this must be a minimum of 6 Characters, 1 numerical character 1 special character, and 1 capital letter.
You can also opt-in to receive occasional emails from FlexiQuiz with any hints and tips to help you make better quizzes.
Press Sign up for free
That's it. Your new FlexiQuiz account is now live, and you can start to make your first quiz, test, or exam.
You can log in to your FlexiQuiz account at any time using the Username and Password that you've provided.
The free account allows you to make custom quizzes, tests, assessments, courses, and examinations that you can assign students to complete at their own pace. In addition you can create live quiz games to host in the classroom or remotely.
Our awesome free features, include:
10 questions per quiz
20 responses a month
Various page types including welcome, text/ media, and thank you pages
Bookmarks, question randomization, auto-grading and more
Find out more about the FlexiQuiz free account >>
How to upgrade
Upgrade to access additional features and tools for creating custom quizzes with more design options, more responses, greater customization options and a wider range of configuration tools.
You can choose to subscribe to a Essentials, Premium, or Enterprise plan.
You have the choice of paying monthly or saving over 25% and paying yearly.
To subscribe:
Log into your FlexiQuiz account.
Click the blue button on the top right - Upgrade Now
Pick your plan - select to pay monthly or save money with the yearly option.
Choose to pay by PayPal or Credit card
Enter your payment details
Your account is instantly upgraded and you can start using your Essentials, Premium, or Enterprise features straight away.
Subscription payments are debited on a monthly or yearly basis depending on your selected plan.
You can cancel your FlexiQuiz subscription at any time before your next billing date. Log-in to your FlexiQuiz account, go to Settings and press cancel plan.
You will keep access to your paid features until the end of your billing period.
Learn more about billing and payments >>
Relevant guides:
How to make a quiz, test, or assessment
Ways to share your quiz, examination, or test
Top blog articles:
Creating fun ice-breaker quizzes
How to build and share a quiz in any language
Back