Help
/ Setting retakes for fail grades
Allowing students to retake your quiz if they get a fail grade
Quizzes are often a great way to test a student's knowledge. You can configure the quiz in such a way that students can only complete the quiz if they pass. If a student fails the test, they are required to retake the quiz.
With FlexiQuiz, you can customize the grade requirements and only allow students to retake the test if they get a low score. You can also choose how many times test-takers are allowed to retry your quiz.
This guide shows you how to configure your quiz only to allow students who fail to retake and how to customize the fail grade.
How to set the maximum quiz attempts
Create your quiz, test, or examination in the usual way.
Go to the Configure/ General screen.
Scroll down the page to Maximum quiz attempts.
Choose how many times users are allowed to retake your test if they fail.
Tick the box can only retake if fail quiz.
The image below shows an example of test-takers being able to retake the quiz up to three times if they fail.

Setting a pass or fail grade
By default, the FlexiQuiz system is set to fail a user if they get 69% or less of the available points.
You can customize the grades on the Grades screen.
Go to the Configure screen and select Grades from the left-hand menu.
Add a name for your grade.
Choose the minimum % of points that users need to get to achieve the grade.

Important! At least one grade will need to start at 0%

Tick the box if the grade is a pass or leave the box blank if the grade is a fail.
The image below shows an example of a customized grading screen. The fail grade applies to anyone who scores 0% to 39.99% of the available points.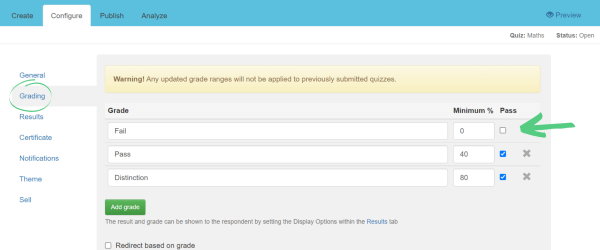 Your new grading is now set up!
The grades automatically apply to any quizzes started from now.
Students who fail to get the minimum required grade will be shown the Retake Quiz button on their results page.

Top tip! You can customize the text and color of the button on your Configure/ Theme screen.
If you have chosen not to show a results screen, the Retake Quiz button will appear on the final landing page.
Relevant help guides
These guides refer to features that use a pass or fail grade:
Back