The latest features to help you develop the best quizzes, tests and assessments.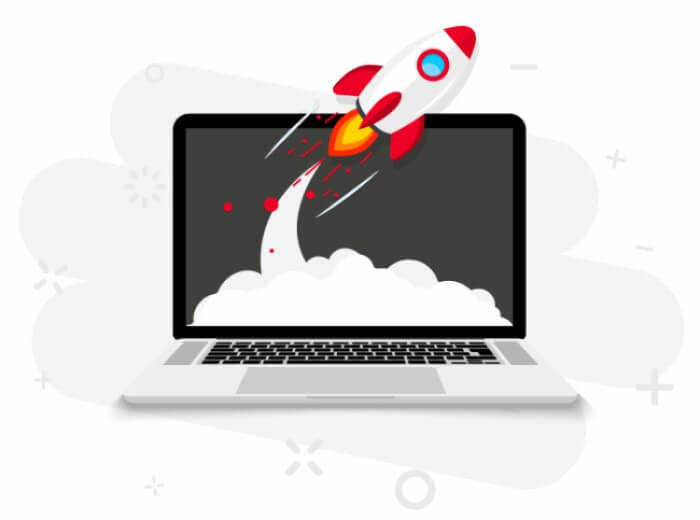 New feature highlights
At FlexiQuiz, we release many new features and fix any minor bugs throughout the year.
Each new feature is built for you. We aim to keep improving your quiz-making experience so that it's simpler, more efficient, and more productive while improving test-taker engagement.
If you have any suggestions for new features, we would love to hear from you.
Please get in touch with any ideas or feedback. Although we'd like to build all the new features you suggest, it's not always possible. Our resources are limited, so we prioritize features that we believe will appeal to as many quiz makers as possible.
This page provides information about our new features and any minor bug fixes.
June 23: Adding logos, live quizzes and updates to Trainer's access.
Adding logos, icons or gifs to classic quizzes.
It's now easier to size logos on all your page headers, such as registration, welcome, question, content, results and thank you pages.
We have added the option for you to size the logo to fit the header automatically. Or you can choose the size and maintain the aspect ratio.
In addition, you can now add your logo to a results PDF report that learners can download on their results screen or email notifications.
For customers with an Essentials plan or above, you can add and size your logo from the Configure/ General screen. Learn more about adding logos to a quiz >.
Live quizzes have become more interactive.
Not only have we updated the colors for live quizzes, but we have also added a few new features.
Celebrate success with confetti displayed on the leaderboard.
Allow players to view their position on their results screen.
Easily embed Google slides to question and content slides.
Allow players to join using a QR code that they simply scan to join your quiz.
Group updates.
Groups will show in alphabetical order on your Groups dashboard.
Trainers (with permission to manage Groups) can now create a group that is automatically assigned to them.
Trainer updates.
Trainers with the relevant permissions can add new Respondents and Groups who will be automatically assigned to them.
September 22: Automatic reminders to take the quiz and auto-close scheduler for users
Remind students to submit their quiz
Our reminders notification feature allows you to send a custom email to respondents if they do not submit their quiz after a set number of days. You can send up to two emails customized with your text in any language.
Users schedule
The user's schedule sets how long respondents can access their test. Each user will have a unique end date or time based on when the quiz is assigned to their respondent account, when they are sent an email invitation or when they register for the test.
Learn more about setting the users schedule >
March 22: Respondent account password resets
Save time and allow Respondents to manage their password reset online.
Previously, Respondents, Trainers and extra Admins could only reset their passwords online if their username was an email address.
You can now allow Respondents, Trainers and extra Admins to reset their passwords if an email address is provided on their profile page.
To set up online password resets for all:
Select Settings from the top menu and General from the left-hand menu.
Tick the box Password resets
Go to the users profile page and ensure an email address is provided in the Email field
Users can now update their password from the FlexiQuiz home page by selecting Login and forgot password?. Users need to enter their username and if a valid email address has been provided, they will be sent an email to update their password.
December 21: Create and host live quiz games
Our new live quiz type allows you to create and host a quiz that participants play at the same time. Your audience can only view the questions when you present them and play along using their devices.
You can host a live quiz with everyone in the same room or remotely using any video conferencing platform such as Zoom, Microsoft Teams, or Google Meets.
Live quizzes are an awesome way to test peoples knowledge in a fun and exciting way.
Learn more about live quizzes.
September 21: Self-registration, selling groups of quizzes, new theme screen, capture user notes, and more.
Allow students to self-register for a Respondent portal.
A Respondent portal allows test-takers to log in with a unique username and password to view and complete assigned quizzes.
There are now four ways to create Respondent portals:
Create Respondent portals one by one from your User dashboard.
Bulk upload multiple users with the FlexiQuiz excel template.
New: All users to self-register for a Respondent portal linked to a Group. Learn more about setting up self-registration for test-takers.
New: Allow users to self-register for a Respondent portal when they buy a group of quizzes.
The new/ edit user screen is updated
Key changes are:
New page layout that includes a profile and reports tab.
Instant access to the user's reports that list all assigned quizzes, grades, and status.
Option to add an organization - this data is not yet added to reporting.
Bio/ notes section to allow you to track essential messages.
Theme screen layout changes
The layout for the Theme screen is updated to reflect additional items added over the past couple of years (and allowing for new customization options in the future).
We have changed the layout for the Theme screen so it's easier for you to find the relevant part of the quiz that you would like to update.
April 21: Bookmark questions, matching question type, an easy way to copy questions, and more.
Matching question type.
We've added a 9th question type called matching.
Matching consists of two columns where quiz participants need to pair items in the first column with the correct option in the second column.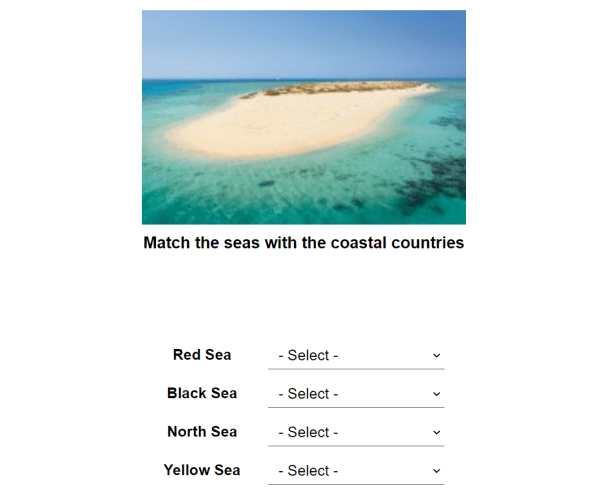 Bookmark quiz questions.
Allow test-takers to bookmark questions that they can refer to during the quiz.
There may be times when a student finds a question quite tricky. The bookmark feature allows test-takers to flag the question and quickly return to answer at a later time.
Take this quick quiz to see how the bookmark feature works for test-takers.
You can set up bookmark questions on the Configure/ General screen.
Easier access to reporting of Respondent results.
The Reports/ All Users screen lists all Respondent accounts with a summary of the number of quizzes assigned, completed, and achieving a pass grade.
The reports page now allows you to press on the + symbol to access detailed quiz results for each Respondent instantly.
Send results at a later time customization.
We recently added a new feature to enable you to email quiz results to participants at any time.
We had a minor bug which meant that you could not customize the email address on the registration page. This has now been fixed.
You can now add a registration page and customize the Email address field.
Copy questions
Quickly and easily copy questions and paste into another quiz and page.
Top new features in 2020
Create a quiz with Google fonts.
Enterprise members can now customize their tests further with a choice of over 1,000 google fonts.
Fonts are applied using the CSS editor.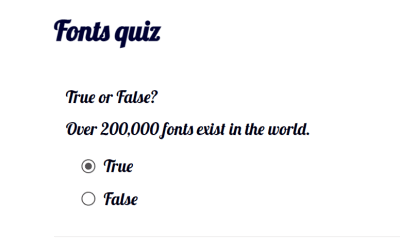 Enterprise members need to contact us for further information on how to use these fonts.
Save and continue later.
We have added new options to the save and continue feature.
You can allow test-takers to request an email with the save and continue URL. By receiving an email, test-takers don't need to remember to copy and save the URL.
You can customize the save and continue email from your settings screen.
Find out more about our save and continue feature.
Add a registration page to email invites.
You can now add a custom registration page when sharing your quiz using email invites.
Email quiz results to test takers at any time.
Send a results email at any time direct from your Analyze screen.
You can customize emails in any language, attach certificates and a PDF of all questions.
Learn more about sending emails with results.
Send custom username and password reminders to Respondents.
Send account notifications to Respondents, Admins, or Trainers direct from your User dashboard.
Add messages to the registration page.
A registration page can be added to the start of a quiz shared using an email invite or quiz link. The registration page can be used to capture data and pre-populate any custom certificates.
You can now add a free format message to the top or bottom of the registration page.
Other new developments.
Only show the option to retake the quiz if the participant fails.
Retrieve a copy of the save and continue URL from the Analyze dashboard.
More configuration options to display data on the participant's results page.
Send email reminders if test-takers do not respond to your email quiz invite.
New certificate templates.
Back