Blog
/ Quiz maker automations
Quiz tips
Improve your quiz process with these 5 automations
By Ian, FlexiQuiz.
3 minute read.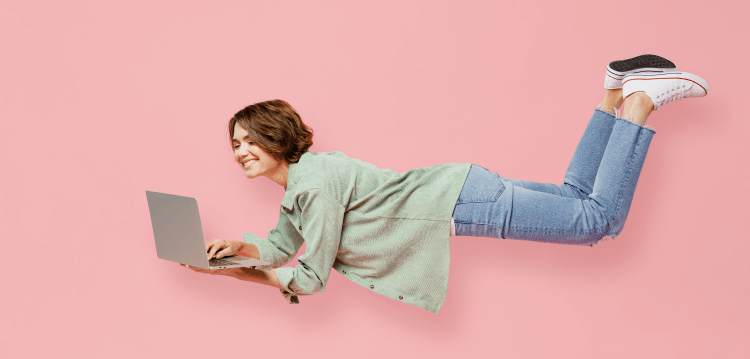 Automating processes is becoming increasingly popular as you can deliver an excellent user experience and save time and money.
Our quiz maker software offers many automation features so that you can spend less time with manual actions, allowing you to manage dozens or thousands of quizzes efficiently. We have listed some of our favorites here.
Set times that the quiz is available
Scheduling quizzes can be challenging when you're busy and have a packed calendar.
Our scheduler allows you to set the date and time your quiz automatically opens and closes so that you can get on with your other tasks.
Simply tell students how to access the quiz and when. Students can join the quiz from the set time and will be blocked when the quiz closes.
Learn how to set start and end time >
Share feedback based on right or wrong answers
Feedback allows students to understand why they have got a question right or wrong and helps them to develop.
With FlexiQuiz, you can share feedback based on right or wrong responses during or at the end of a quiz.
You can share feedback in many formats, for example:
Videos: Share a video recording with a full explanation.
Documents: Attach documents with reading materials for students to download and review.
URL links: Share a link to another website with more information.
Gifs: Add a gif to celebrate success.
Text: Add some text with essential factors to consider.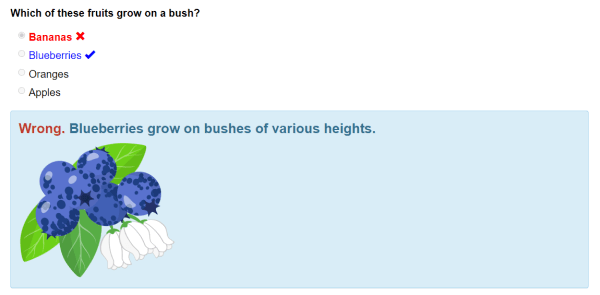 Learn how to leave quiz feedback >
Set automatic email reminders
At times, respondents may need a gentle reminder to complete and submit their online tests.
Our quiz reminders feature can automatically send a reminder email to respondents if the quiz isn't submitted by a set date. This saves you having to check that everyone has completed the required activities.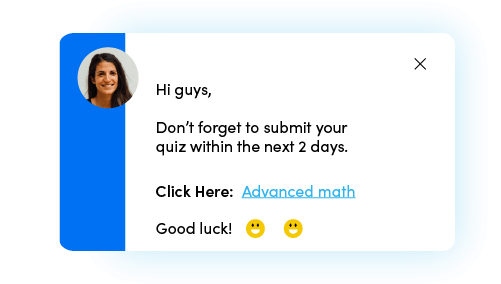 Learn how to set reminder emails >
Auto-score and grade quizzes
Manually marking dozens of quizzes is time-consuming and open to errors.
FlexiQuiz auto scores and grades quizzes based on the rules you set. You can choose how many points to award of deduct, the grade ranges and the results you want to share.
All results are instantly available on your analyze screen. You can also share grades with respondents on a results screen or by email.
Set custom learning paths
Learning paths automatically direct students to their next activity based on their chosen options, grade or course requirements. Respondents don't need to wait for you to assign a test or share a quiz link.
Our quiz redirects feature allows you to configure which test respondents can access next.
For example, you can configure the system to direct everyone with a high grade to an advanced quiz. While respondents who do not perform well can be directed to review additional learning materials before attempting the quiz again.
Learn more about learning paths >
Get started with automation today!
Automations can help you manage quizzes faster and provide a professional experience for respondents.
Back