Help
/ Types of FlexiQuiz user accounts
Types of FlexiQuiz user accounts
There are four types of users available within your FlexiQuiz account:
Main Administrators: Typically the user who created the FlexiQuiz account. Main Admins have access to all of the data associated to the account.
Administrators: Users have access to all the quizzes on the account. However, permissions to access various parts of the site can vary.
Trainers: Users have access to create and manage assigned quizzes based on the permissions set by an account Administrator.
Respondents: Users have access to take assigned quizzes. Respondents are not able to create quizzes.
All user accounts are managed through the main user dashboard. From the dashboard, you can create new users, change permissions, suspend, resend welcome emails or delete accounts.
Each user gets a separate set of credentials to log in to their FlexiQuiz account securely. If a user leaves your organization, you can remove them from your account. It's a secure and easy way to manage users.
All users, by default, can take online tests assigned to them as a quiz taker.
To help you select the right account for your needs, this guide outlines each of the accounts and their configurable permissions.
Administrators (Admins)
Admins have visibility of all quizzes, groups, users, and FlexiQuiz account settings based on permissions you set. So Admins can have access to everything or they could only have access to view results for all quizzes.
As the Main Admin, you can set permissions to determine whether the Admin can create quizzes, configure, publish, edit users, delete content, or analyze results.
This role is helpful in a few different ways. For example:
By giving the Admin full access to everything you're able to work with colleagues in real-time to manage all aspects of the examinations together.
You can assign specific roles for a colleague to help in the quiz making process. You can prevent the Admins from editing the quizzes but allow them to style and manage test results.
Trainers
Trainers have visibility of selected quizzes, groups, and users based on the permissions you set.
The Main Admin and Admins with user permission can set the Trainer permissions. The permissions configuration options include creating and editing tests, configuring, publishing, managing users, deleting data, and to analyze quiz results.
This role is helpful if you need to restrict access to certain users or groups. For example, an organization split by region or department can assign a Trainer to manage quizzes in a relevant location or group.
Respondents
Respondent accounts are test-taker accounts.
Respondents can log in with a unique username and password to view assigned quizzes on a simple dashboard. The dashboard lists all assigned tests and their progress.
Respondent accounts are a quick and easy way to assign regular tests, exams, and quizzes.
You can also assign Respondent accounts to a group or groups for easy quiz management of multiple people.
Learn how to create a Respondent portal
User permissions chart
The table below outlines which permissions are configurable for each user account type.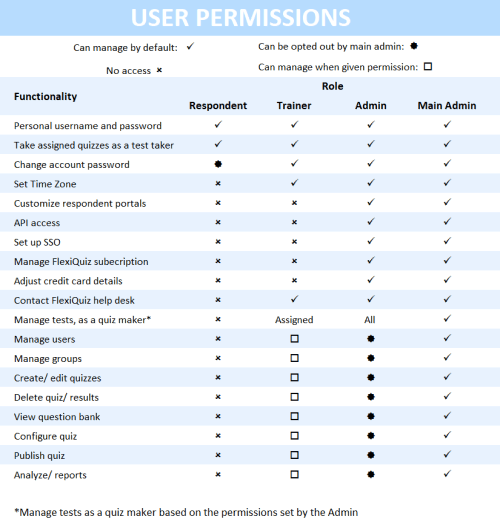 Relevant Help Guides
How to customize a Respondent portal
Blog: working in collaboration
Back