Blog
/ Ways to use FlexiQuiz for business
Ways to use FlexiQuiz in your business
By Joanna, FlexiQuiz.
4 minute read.


FlexiQuiz offers an all-in-one solution for your company's quiz and training needs.
Our secure and flexible online platform allows you to create custom quizzes and training courses for job candidates, employees and customers.
This article explores various types of tests you can create, share and manage with FlexiQuiz.
1. Pre-employment testing
Pre-employment tests are an essential part of the hiring process for companies and organizations.
Well-structured tests are a reliable and objective way to learn more about candidates and will help you find the best person for the role.
With FlexiQuiz, you can save time and reduce costs by creating tests tailored to your organization, sector and role.
These are a few examples of the types of tests companies already manage with FlexiQuiz:
Job knowledge tests
Cognitive ability tests such as verbal reasoning, numerical and logical reasoning
Skills assessments that require candidates to share an example of their work. They could upload creative designs, share a video or audio recording.
Our generous response limits allow you to test large volumes of candidates throughout your recruitment process, ensuring you don't miss people's potential.
2. Onboarding training
Onboarding training gives newly hired employees skills, knowledge and behaviors to become valued team members.
It's also their first experience with your organization, so we know it's essential to make a great first impression.
We can help you create professional-looking and measurable training materials for various activities such as classroom teaching, assessments, coaching, virtual meetings and evaluations.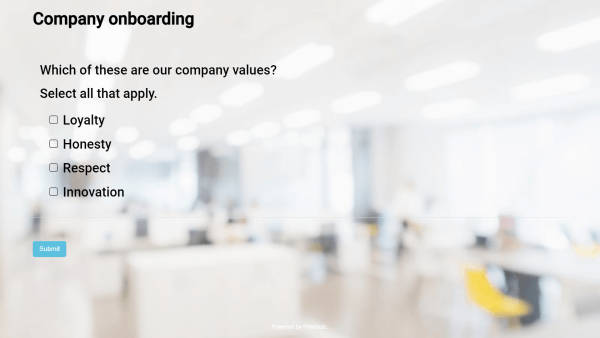 These are a few features that can help you build strong onboarding classes.
Videos: Add a welcome message from your CEO or a company advert.
Live quizzes: Add some fun to your class by hosting a quiz that tests people's knowledge and brings everyone together.
Classic quizzes: This is our most flexible quiz type that allows you to create any kind of quiz, test, or course. Staff can progress at their own pace based on the rules you set.
Secure cloud-based software: Your tests are available anytime, anywhere based on your set rules.
Customizable in almost any language: If you're managing global teams, then it's crucial everyone can understand the training. Create your quizzes and add navigation messages in any language.
Employee portals: Provide your new hires with their own account that they can access with their username and password to view required courses, tests and examinations.
Learning paths: You can tailor the experience for each new employee to easily navigate relevant content at the right time. Our redirect options allow you to create a flow or frequency of training that works best for your tests.
3. Team building events
Games and fun quizzes are a great way to boost company culture and bring together all employees. Therefore, more and more companies are using online quizzes as an effective way to involve everyone working from the office or remotely.
There are loads of entertaining quizzes to create, such as pub-style trivia games, icebreakers, memory games or a virtual scavenger hunt.
Using a variety of questions, quiz types and configuration options, you can quickly create entertaining, inclusive quizzes and build camaraderie.
Elevate your quiz by adding an element of competition such as a leader board, custom certificates or prizes.
Plus, the whole team can feel involved by helping to design the quiz, submitting questions or making their own.
4. Training and development
Employee training and development enhances skills and knowledge, which benefits individuals and the company.
Organizations that invest in regular, relevant training find employees are more motivated, loyal and productive. In addition, companies benefit from attracting top talent, higher retention rates and efficiencies that drive increased profits.
FlexiQuiz is designed to help companies large and small efficiently deliver a custom learning experience that is beneficial for all users. Our cloud-based solution enables you to manage manual tasks and track employees' progress over time.
These are the types of training courses that you can deliver with FlexiQuiz:
Customer support
New product
Leadership
Communication skills
Time management
Diversity
Our flexibility allows you to run training courses anywhere with a fantastic experience for all learners. For example:
Classrooms: Involve everyone in the room by hosting a live interactive quiz. Live quizzes allow everyone to follow along at the same pace and give you quick insights into the group.
Online: FlexiQuiz can complement your online training sessions with live quizzes that you can host over zoom.
Asynchronous: It's not always possible for all staff to attend training sessions simultaneously, so asynchronous learning allows students to progress at their own speed. The content can consist of a single knowledge quiz or a complete learning path.
5. Compliance testing
Compliance tests are periodically required to audit employees' knowledge of mandated laws and regulations that apply to their role. Companies run smoothly by ensuring all employees complete their required compliance training and tests.
FlexiQuiz allows you to share the compliance assessments with exam conditions that minimize cheating, helping you to ensure it's the employee's own work.
Once employees have completed and passes an online test, you can award them a custom certificate that recognizes their achievements. Certificates can include your company details, logo, a unique code, details on the training completed, and expiry date.
You can automatically keep managers and relevant stakeholders informed on the employees' progress by using email notifications.
6. Marketing quizzes
Fun quizzes with a 'wow' factor are a great way to raise awareness of your product and engage new customers.
FlexiQuiz makes it easy for you to create interactive quizzes that stand out, reflecting your brand and personality.
Features that can help you create great customer engagement quizzes:
Embed the quiz in your site
Capture data or leave the quiz anonymous
Style the quiz with your company logos, colors and brand imagery
Choose from thousands of google fonts
Share your quiz with up to 30,000 people monthly for only $70/ month
Add images, videos, music and gifs that grabs the attention of your audience
Add a variety of question types to make the quiz more interesting
Add a gamification element such as a certificate or discount coupon
Plus, there are many more customization options to choose from when creating online quizzes.
With all these options, you can make various types of online quizzes, for example:
Personality quizzes
These are a great way to help your audience to learn more about themselves.
Example: How healthy are you?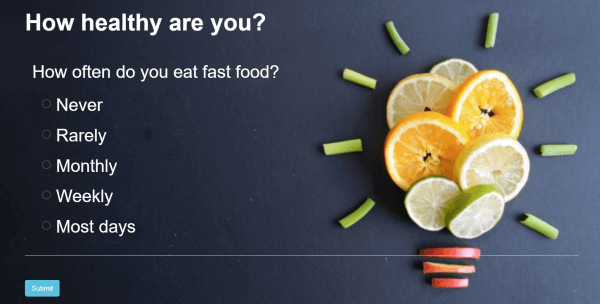 Scored
Scored quizzes are a great way to bring out people's competitive side, all aiming for the most points.
Example: How many flags can you correctly guess in 1 minute?
Assessment
Assessments are an excellent way for your audience to test their knowledge and learn new things.
Example: Test your knowledge of foods and learn which are the most healthy
Are you ready to start making quizzes, tests and assessments for your company? Click here >>
Back