Blog
/ How to create a festive zoom quiz
How to create a virtual Zoom quiz this holiday season
By Ian, FlexiQuiz.
5 minute read.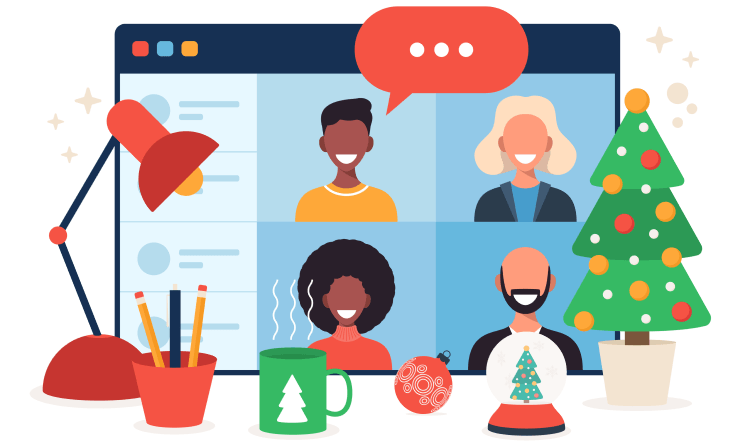 The holiday season is the perfect time to connect with people near and far. However, in these Covid times, we often catch-up online as it's not always possible to see people face-to-face.
There are many ways to entertain a group online, such as wine tasting, singing karaoke, and playing games like Pictionary, Bingo, Heads Up, or all types of quizzes.
Hosting a festive online quiz is a fun, simple way to entertain colleagues, friends, and family. You can create a custom quiz with questions that reflect the group's abilities, knowledge, and humor. For example, "What year did Auntie Sandy fall in the Christmas tree?"
It's super easy to create, share, and host custom quizzes that your audience will enjoy utilizing software such as Zoom and FlexiQuiz.
I'm sure many of you are familiar with Zoom, a video conferencing tool that's become popular partly due to the rise of virtual meetings, parties, or gatherings. It allows you to add different backgrounds, share your screen, chat within groups, and includes a great free plan option.
FlexiQuiz is a flexible quiz maker tool that makes making quizzes with your unique questions easy. Our new live quiz solution helps you create great online quizzes that challenge and entertain everyone. For added excitement, add a countdown timer, bonus points for the fastest answer, images, and a leaderboard. Plus, you can try it for free.
This article shows you how to create and host virtual quizzes for work, school, or socializing this holiday season. We'll focus on:
A basic overview of a Zoom online quiz
How to create and run the best virtual quiz
Excellent festive quiz questions to help you get started
Overview
A Zoom quiz is hosted over Zoom, and participants answer questions remotely using FlexiQuiz on a web-based device such as a mobile phone or tablet.
Participants can play individually or in teams using Zoom features to discuss their responses secretly.
FlexiQuiz automatically marks the answers after the responses are submitted. Players can find out if they are right or wrong, and the host can generate excitement by sharing updates from the leaderboard.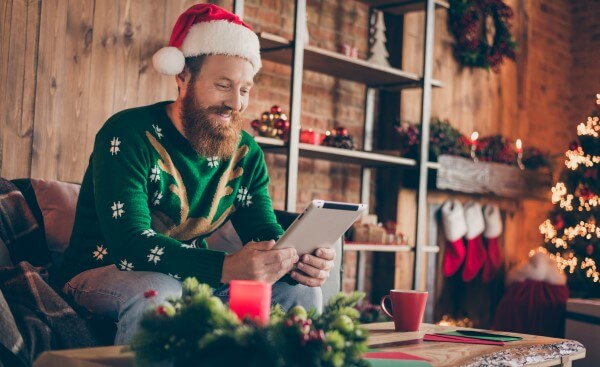 How to run a Zoom quiz
Log in to your FlexiQuiz account and make a live quiz. If you don't have a FlexiQuiz account, you can create one for free.
Set up a Zoom call with your teammates, family, or friends
Share the quiz play URL and access code shown at the top of your screen with your audience
Each player goes to flexiquiz.com/live, enters the access code, and a festive nickname. Players can join on any device, including tablet, laptop, and mobile
Players see the waiting screen until the host starts the game
We suggest that you mute all players apart from the host
You can choose to share your screen, or players can view the questions on their devices
Press Start quiz to begin the game. Everyone will see a 3-second countdown timer, and then the first question appears
You can read the question aloud, adding some festive cheer, or players can view the question on their device
Players enter the correct response as quickly as possible
Once all responses are submitted, you can share the correct answer
Players can instantly see if they got the question right or wrong
Have some fun and build excitement during the game with the following options:

sharing the most popular response
sharing scores at the top of the leaderboard so that players know what to aim for
providing further insights into right or wrong answers
Quiz questions for the holiday season
The holiday season includes festivals such as Hanukkah, Kwanzaa, Christmas, and New Year's Eve.
The beauty of quizzes to celebrate the holiday season is almost endless material - themes can include educational content, yearly reviews, and trivia such as movies, music, and adverts.
These are a few examples of questions you can include in your festive Zoom quiz.
Holiday season trivia
In which year was the first Christmas tree lit up in the Rockefeller Center?

Options: 1900, 1913, 1923, 1933

What does the Spanish phrase "Feliz Navidad" mean?

Merry Christmas

In the song "Twelve Days of Christmas," what is given on the 6th day?

Options: Geese, Swans, Partridge, Calling Birds
Yearly recap
This can test participants' memory of key events worldwide, in your organization, within your social network, or family.
Here are a few examples of questions and answers about key events in 2021
Where were the 2020 summer Olympics held?

Options: London, Madrid, Tokyo, Boston

Who launched an album named 30?
Name the Bond movie that premiered in 2021
True or false: Two dolphins were spotted swimming in Venice's famous Grand Canal

Answer: True

Who won the US women's open tennis?

Options: Fernandez, Raducanu, Williams, Andreescu
You can also create questions related to your team or company. For example:
Which product sold the most in the last 12 months?
What are our new company values?
How many people have joined the company in the last year?
Winter analogies
Snow is to white as holly is to

Options: green, berries, bush, ivy

Frosty is to snowman as Rudolf is to

Options: red, flying, santa, reindeer

Toy is to elf as ribbon is to

Options: tree, present, fairy lights, pudding

Feet are to socks as hands are to

Options: mittens, boots, hat, wool

Cookies are to Santa as carrots are to

Options: orange, elves, cake, reindeer
Christmas movies
Match the movie to the place they are set.

Options: Home Alone (Chicago), Miracle on 34th Street (New York), Bad Santa (LA), The Grinch (Mount Crumpit)

In the movie Elf, which city does Buddy travel to looking for his dad?

New York, Brisbane, Manchester, Madrid

What Christmas movie stars Sinbad and Arnold Schwarzenegger as dads try to purchase a Turbo-Man for their sons?

Jingle All the Way

What drink is served to the children in The Polar Express?

Hot chocolate,, water, tea, orange juice

What's the name of the film that features the song "We're Walking in the Air"?

The Snowman
Name the festive item
Ask players if they can identify the Christmas items based on your description. The explanation can consist of text, emojis, and images that can be blurred, magnified, or distorted for an added challenge.
Who is the reindeer with the red nose?

Rudolf

Besides frankincense, what were the other two gifts that the 3 wise men presented Jesus on Christmas Day?

Gold and Myrrh

Name the novelty candy that is shaped like a building

Gingerbread house

What is this festive animal?

Reindeer

What is the festive word based on these emojis?

Boxing day
Christmas around the world
Where might you find kiviak, a meal of fermented bird wrapped in sealskin at Christmas?

Options: Mongolia, Greenland, Iceland, New Zealand

In which country is the Yule Goat a Christmas symbol that dates back to ancient pagan festivals?

Options: Sweden, Vietnam, Mexico, UK

In which country is Lapland, where Santa is from?

Brazil, Australia, Finland, Netherlands

In which country is KFC a popular Christmas meal?

Options: Australia, Ireland, Japan, France
Ready to create your own live quiz? Click here to start >>
Assign a quiz for players to complete at their own pace
FlexiQuiz is a flexible online quiz maker that makes it super easy for you to create any type of quiz this holiday season.
If you don't want to host a live quiz, you can also share a classic quiz that participants can complete at their own pace. Our classic quiz type offers a full range of customization options so that you can create a wow quiz in minutes. For example:
Change background colors or add a seasonal background image
Allow participants to upload files so that you can play a seasonal scavenger hunt
Add videos, audio, and gifs
Redirect participants to another quiz or URL for more festive fun
Plus much more....
Back