Blog
/ Friendship quiz questions
Fun friendship quiz questions
By Victoria, FlexiQuiz.
5 minute read.


Friends come in all shapes and sizes. From friends you meet at school, work, the gym or an event, to people you meet through other friends. However we meet them or whoever they are, there is a special connection of shared memories, interests and doing things together.
To celebrate your friendships, why not make a fun online quiz?
Test how much people know about you, reminisce and have fun. Friendship quizzes are an amusing and brilliant way to bond with friends, colleagues or classmates.
Make and share a quiz with your mates today to celebrate a birthday, International Day of Friendship, team bonding or even a bachelorette party.
To help you get started, we have pulled together some fabulous questions and listed ways you can host a quiz.
50+ friendship quiz questions
There are various ways you can ask a question, such as fill-in-the-blanks, free format, picture-choice or multiple-choice.
All about me!
To start, these are some questions where your friends need to fill in the blanks.
1. My first pet was called ______ .
2. My star sign is ______.
3. My first car was a _____ which was _____ in color.
4. I get coffee from ______ coffee shop at least 5 times a week.
5. I went to ________ high school.
6. I have been to Mexico ___ times in my life.
7. I have ____ Instagram followers.
8. My sibling is called _____.
9. I studied ________ at uni.
10. My second language is ______.
Favorites
These questions require your friend to give a one-word answer. They work well with the fill-in-the-blank question type.
11. What's my favorite animal?
12. What's my favorite color?
13. What's my favorite movie?
14. What's my favorite book?
15. Who's my favorite actor?
16. What's my favorite food?
17. What's my favorite season?
18. What's my favorite sport (to play)?
19. What's my favorite drink?
20. What's my favorite city in the US?
21. Who's my favorite superhero?
22. Who's my favorite singer?
23. What's my favorite Netflix show?
24. What's my favorite car?
25. Who's my favorite Disney character?
26. What's my favorite flower?
27. What's my favorite shop?
28. What's my favorite holiday destination?
29. What's my favorite song?
30. What's my favorite computer game?
What would I do?
These are some amusing multiple-choice questions. Your friends must correctly guess what you would likely do in various scenarios.
What would I do on vacation?
31. What type of holiday am I most likely to book for my next vacation?
a. City break.
b. Skiing.
c. Beach.
d. Off the beaten track.
32. I'm packing for my dream vacation; what is my liacking style?
a. Neat and tidy, my luggage will fit in the hold.
b. I'll pack everything and pay extra if I exceed the baggage weight limits.
c. Someone else will pack for me.
d. I'll just take my passport and wallet.
33. My flight is delayed. What am I most likely to do?
a. Stay calm and pull out my Kindle to continue reading my favorite book.
b. Pass the time at the nearest bar.
c. Complain and moan to anyone who will listen.
d. Make the most of the time by creating fun social media posts.
34. With which of these famous people would I most like to go on vacation?
a. Taylor Swift.
b. Sir David Attenborough.
c. Bear Grylls.
d. Usain Bolt.
35. On an 8-hour flight, a fellow passenger is keen to chat. What am I likely to do?
a. Happily start chatting about everything and anything. I may even exchange numbers.
b. Pretend I haven't heard them and put on my AirPods to avoid further interruptions.
c. Make some polite but brief conversation.
d. Ask the flight crew to swap my seat.
36. When I get to my destination the hotel room is not great. What am I most likely to do?
a. Politely ask hotel reception if I can move rooms.
b. Say nothing to the hotel but complain to my travel companions the whole time.
c. Go straight to reception and complain very loudly until I get a room upgrade.
d. Who cares! I will be out of the room most of the time.
37. Which of these activities am I most likely to do on vacation?
a. Read several books.
b. High-adrenaline sports like bungee jumping, skydiving and deep-sea diving.
c. Go dancing and enjoy the local nightlife.
d. Shopping.
38. With whom am I most likely to go on vacation?
a. No-one. I enjoy my own company.
b. My partner, to enjoy some quality time together.
c. A big group. The more the merrier!
d. A single friend and we'll meet new people.
39. I'm struggling with the local language. What are my next steps?
a. Get out my phrase book and keep trying.
b. Avoid talking.
c. Mime and act everything out.
d. Use google translate to do the work.
40. The hotel asks us to leave a review on checkout. What do I do?
a. Oblige and provide detailed, helpful feedback.
b. Fill it in as quickly as possible.
c. Decline to write anything.
d. Provide feedback in exchange for a freebie.
What would I do on days or nights out with friends?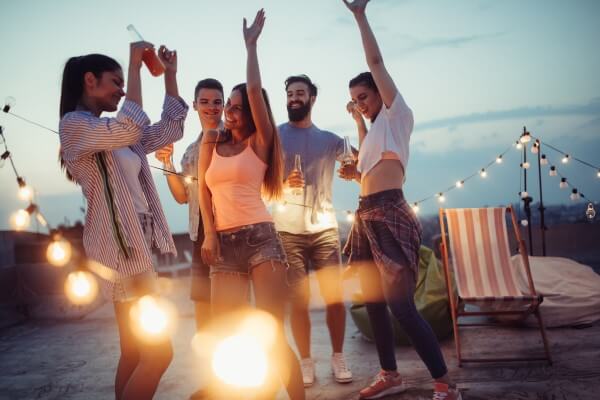 41. If I booked a day out for the whole gang, where would I take you?
a. Theater.
b. Museum.
c. Theme park.
d. Wildlife center.
42. What sort of lunch am I most likely to organize?
a. A fancy restaurant where all the celebs go.
b. A packed lunch.
c. I will organize nothing and we can go to the nearest fast food place.
d. Our favorite deli.
43. How am I most likely to travel on our day out?
a. I'll walk everywhere.
b. I've booked an uber.
c. I've checked out the fastest route using public transport.
d. I'll get out my skateboard.
44. Time for afternoon tea! What is my favorite part?
a. The tea.
b. Cucumber sandwiches.
c. The cake.
d. The champagne.
45. Where am I most likely to go on a night out?
a. A local restaurant.
b. A fancy bar and then a club.
c. The movies.
d. A friend's house.
46. What is my ideal drink on a night out?
a. A glass of wine (red or white).
b. Cocktails.
c. Beer.
d. Soft drinks.
47. What role do I play in the group?
a. Funny.
b. Organized.
c. Peace-maker.
d. Adventurer.
48. You get home from a night out. I have left a surprise in your bag. What is it?
a. Chocolate.
b. A little note.
c. A gift voucher.
d. My dirty tissue.
49. What are my favorite shoes for a night out?
a. Comfy and practical.
b. On trend (but give you blisters).
c. Designer.
d. Cowboy boots.
50. How do I like to say goodbye?
a. Big cuddle.
b. Kiss on the cheek.
c. Fist pump.
d. Laters.
Ideas for making a friendship quiz
Check out the different ways you can make a quiz for your friends, besties, buddies, amigos or mates.
#1. Live quiz game
Host a live quiz game. Your friends can play along in real-time using their mobile devices. Follow these steps to make and host a quiz game with your mates.
Sign into your FlexiQuiz account (you can create one for free if you don't already have one).
From your dashboard, press create quiz and pick live quiz.
Add your questions and any answer options. We've shared some ideas for the questions above.
Add music, photos or short videos for some added magic.
Configure the quiz for extra excitement with time limits, certificates and bonus points.
Practise your quiz.
Share the link to your quiz.
Host the quiz in person or on Zoom. You can talk through people's responses as the game progresses.
Have fun!
#2. Classic quiz
Create a quiz and let people answer in their own time using a mobile, laptop or tablet.
Log into your FlexiQuiz account, press create quiz and choose the classic quiz type.
You can add a welcome page to share information about the quiz.
Add your questions and any answer options.
Highlight the correct answers so that the FlexiQuiz system can auto-grade the quiz.
With a paid account, you can customize the style to showcase your personality by using your colors and favorite pictures.
Configure the quiz with timers, bookmarks and more.
Go to the Publish screen and pick how you want to share your quiz.
Happy quizzing!
Back