Home | Help Guides | New Features
NEW FlexiQuiz Features
We're always making enhancements to make sure you have the best possible test & quiz making experience. This page summarizes our latest features as they launch.
We're constantly developing and so if you've any additional ideas, please contact us
Learn more:
🚀 File Upload Question - December 2018
We've added a new question type for Premium Plan members, giving greater flexibility for testing. The file upload question let's quiz takers upload a file to answer a question, for example they could upload a copy of their CV or an excel document showing their detailed calculations.
It's really easy to use, just select File Upload from the question type drop-down menu when creating your quiz. Type your question and leave the answer box blank for participants to upload their answers (maximum size of file 50 MB).
If you're currently a member of the free plan and would like to try this new feature just contact us by 31 December 2018. We'll give you a 7-day free trial to the Premium plan (no credit card number required). Note - please allow up to 12 hours for your plan to be updated.
Instant Answers and Feedback - November 2018
FlexiQuiz is configured to automatically display quiz results at the end of the quiz, once respondents submit all their answers. However, you now have the option to display answers and any feedback for each question, as the respondent goes along.
This new option works with multiple choice, single choice, picture choice, matching text and fill the blanks questions. To set up instant feedback go to the Configure tab and select Results - from this page you will be given the option of what and when to share results with participants.
At the end of every page, the respondent needs to save their answers and then they will instantly be shown;
the correct answer,

their saved answer marked (with a tick or a cross)

and any question feedback.
If you want to show participants answers immediately after each question, then just configure the quiz to 1 question per page.
Example of a quiz in progress using instant answers and feedback: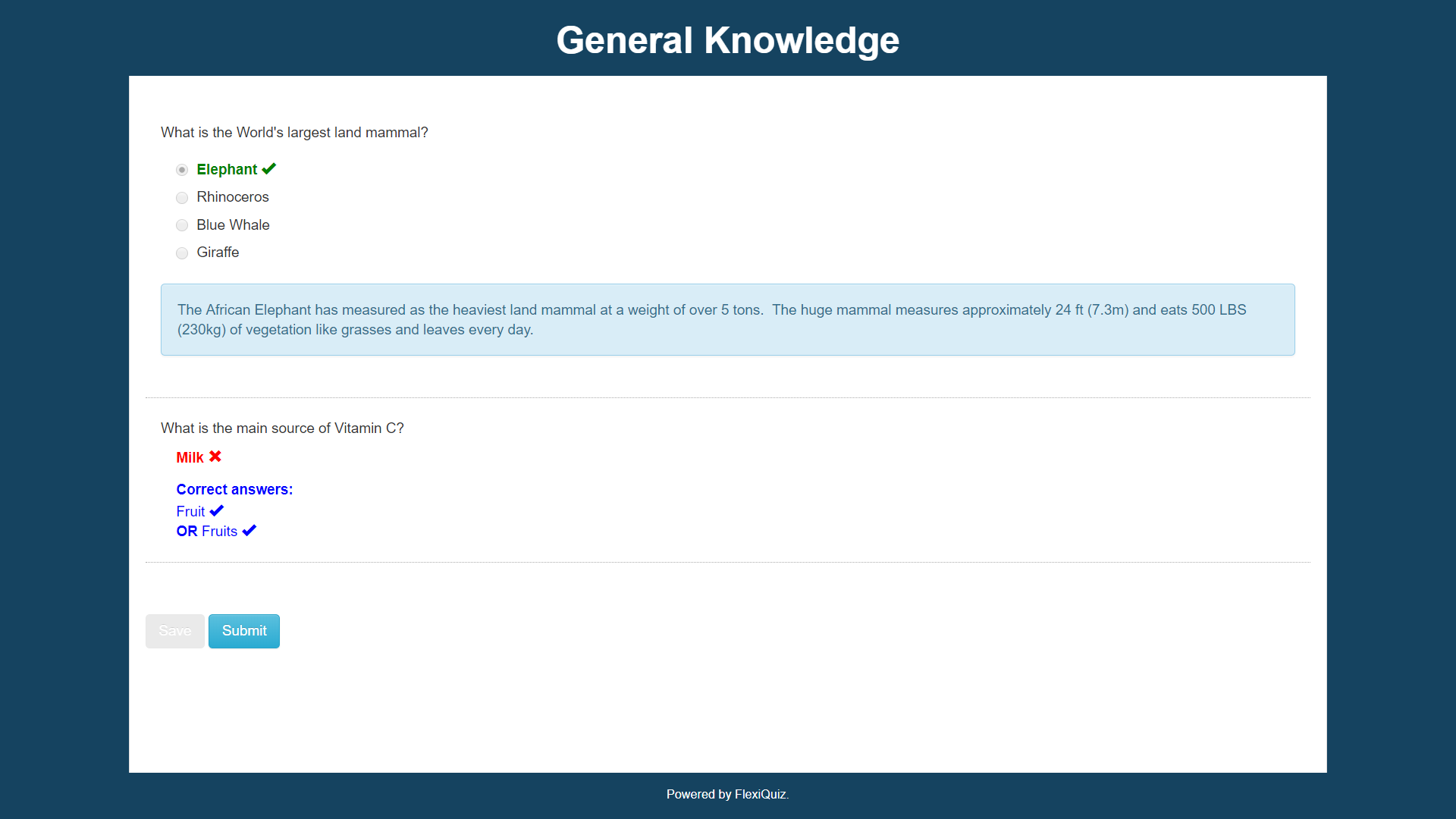 APIs & Webhooks - November 2018
FlexiQuiz has now launched a restful API to enable you to work from you standard webapp or URL and connect securely with the API to update Quizzes and Respondents. This API enables the utilization of the following processes.
Extract quiz results and manage respondents, trainers and administrators

Open and Close a quiz

Assign new users (administrators, trainers and respondents)

Assign quizzes

Review the status for all quizzes

And more...
A webhook will notify you when events occur such as a quiz is submitted or user details are updated. Can be sent sereuly to your specified URL or Webapp
To learn more, developers can review our guides to APIs and webhooks
Any Questions, Suggestions or Feedback? Please let us know!
Comments