Blog
/ New Features, Spring 21
PRODUCT
Matching question types, bookmark questions, copy questions, and more.
By Joanna, FlexiQuiz.
3 minute read.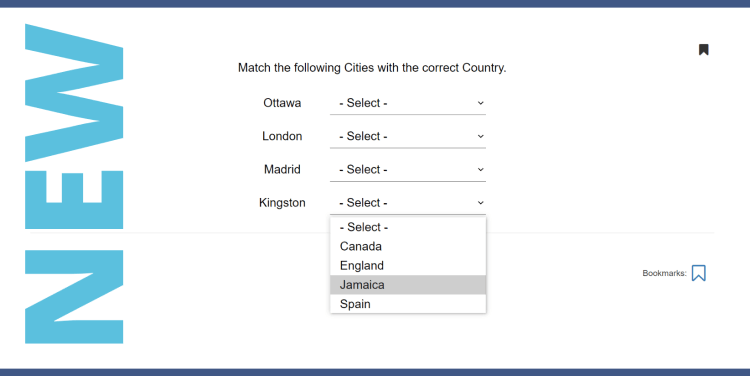 We've completed the second major release of the year including new features and some minor bug fixes.
With each release, we aim to make the quiz maker experience more simple, efficient, and productive while improving test-taker engagement.
This blog gives you more information about the features in the FlexiQuiz spring 2021 update.
Matching question type
We've added a 9th question type called matching.
Matching consists of two columns where test-takers need to pair the items in the first column with the correct option in the second column.
Matching questions are great for testing reading skills, recognition of relationship, and making associations.
Find out how to add a matching question to your quizzes.
Bookmark questions
You can now allow test-takers to bookmark questions to reference during the quiz.
You have the option to select the bookmark feature from the Configure/ General screen.

If you allow the bookmark question feature, test-takers can flag their chosen questions during the quiz. At any time during the examination, test-takers can choose to view a list of all bookmarked questions, click on the question and return to the question.
Bookmarks are an excellent feature if you have a large quiz where test-takers don't need to answer the questions in any specific order.
Copy questions
To help make your quiz building process even easier, we've added a simple way to copy questions to the same quiz or another test.
Just select the question you would like to copy on the Create screen and press copy.

Choose the name of the quiz and the page where you would like to paste the question.
Your time zone is displayed next to the schedule quiz
When you schedule a quiz auto start and end, your FlexiQuiz account time zone is now displayed.
This feature helps you to ensure the quiz automatically opens and closes in your correct local time zone.
If the time zone is not correct, you can easily update it on your settings screen and then return to configure your quiz.
Find out how to schedule a quiz start and end time.
Sending results at a later time
We recently launched a new feature that allows you to send results to quiz-takers at any time directly from your Analyze screen.
This feature now allows you to customize the Email address field on a registration page and still send participant results direct from your Analyze screen.
Find out how to customize the registration page when sharing a quiz with a unique link or email invite.
To keep up to date with our latest news and features follow us on Facebook, Twitter, or LinkedIn.
Back