Home | Help Guides | Ways to share answers and feedback
You have a choice of ways to show participants if their answers are right or wrong, share correct answers and provide any feedback. These options include:
During the quiz - when responses are saved on each page

At the end of the test - when all responses have been submitted
Both - during and at the end of the test
Or, you can opt to not share any results and answers with participants. Maybe, you may have a number of quiz takers doing the test over the same time period and you don't want them to share information with others.
Take this short quiz to see what instant marking, showing answers and sharing feedback can look like:
How to add feedback
Feedback gives you the opportunity to explain the rationale for the right or wrong answer to participants. Premium plan members can use images, videos and audio to support the feedback messaging. To create feedback, follow these simple steps:
Create your quiz, test or assessment

Add a question

Under the question field select show question feedback

You can choose to split the feedback based on correct and incorrect answers

Type your feedback in the white text boxes (see example below)
Example of the question page for creating feedback text: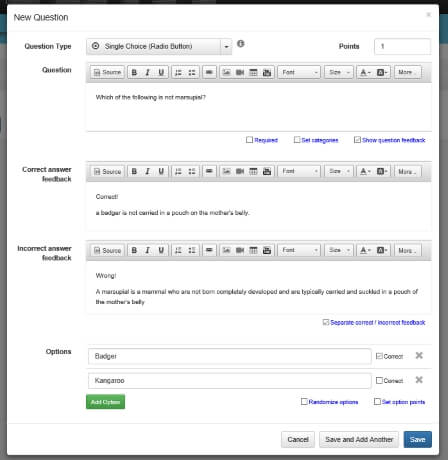 You can decide which questions you want to provide feedback on (it's doesn't need to be every question)

Finish creating the questions on your quiz, test or assessment
How to configure when to share
During the quiz - show a marked answer and any feedback when participants save responses on every page
Create your quiz

Select the Configure tab
Select Results from the left-hand menu
On the results page, tick Show answers during quiz

Finish configuring your quiz (for example; number of questions per page, time limits, colors and more)

Publish quiz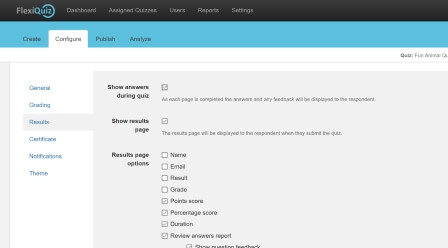 When the participant has responded to each question they need to press save. Participants will be shown their marked answers with a tick or a cross, the correct answer and any feedback.
Participants need to press next page or submit to move forward. Premium plan members can change the text and colors of the buttons shown to participants.
If you have set a time limit for the quiz, the time won't stop while participants review the correct answers and feedback. The clock keeps ticking!
Create your quiz, test or assessment

Select the Configure tab
Select Results from the left-hand menu
Tick Show results page

Tick which information you want to share with participants once the quiz is submitted

Finish configuring the quiz and Publish
Example of the Results Configuration page: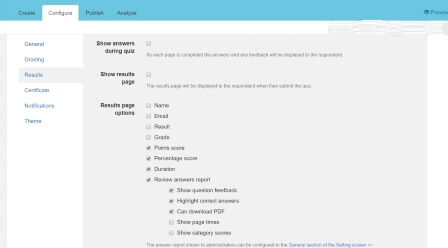 You can change the results configuration at any time - the quiz can be in design, open or closed. However, any changes will not apply to quizzes that are in progress or completed by the participant.
Any suggestions, comments or feedback?
Comments: