With FlexiQuiz you can sell access to the content you've created by adding a payment page to the start of your quiz or course.
✔ Payments are processed using the processor Stripe
✔ You set the price for people to access your content
✔ Multiple currencies supported
✔ We don't charge any set-up or transaction fees
How to add a Payment page
This feature is for Premium or Enterprise plan members.
2. Configure your activity. For example:
► Limit the number of times quiz takers can view your content and take the test
► Share test results, certificates and answer feedback
► Set notifications so that you're made aware when responses have been submitted
► Redirect quiz takers to your site, blog, more tests or courses
3. Add a payment page - this will be the first page that your customers will see and takes them through to Stripe to complete payment
To add the payment page, follow these simple steps:
► From the Configuration tab, select Sell on the left-hand menu
► You will be presented with this Sell page that enables you to configure your requirements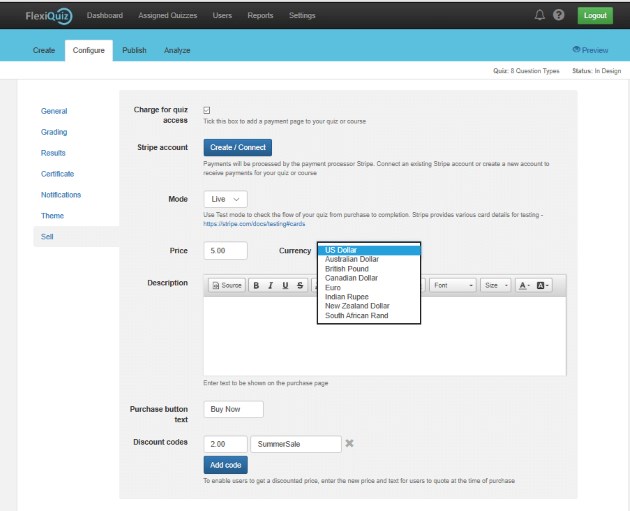 ► Tick the box Charge for quiz access
► Connect an existing Stripe account or create a new one. Once the Stripe account is connected, you will see a confirmation on your FlexiQuiz Sell page.
You can Disconnect the Stripe account at any time.

► Select a mode for your content - the system is automatically set for Live. So, all activity is live and any credit card details entered via your payment page will be used to take payment.
Or, select Test - this will enable you to test the flow of the journey using test cards from Stripe.
! Top tip: Ensure the mode is set to Live before publishing your quiz or course. If the mode is left in test, quiz takers could access your content without paying.
► Set a price. The price needs to be fixed so all participants pay a set amount to access the whole course. There are minimum price requirements - see FAQs below.
► Add some text for participants to view before purchasing your product.
We recommend that this includes: your business name, contact details, a description of your goods and service (e.g. how many questions), the price, how they can pay, when the quiz will be available and any cancellation terms.
This is an example of some text we've created for selling a package of tests: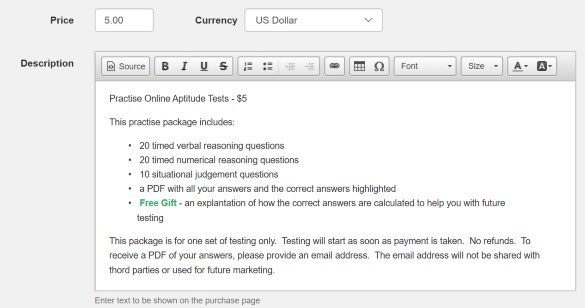 ► You have the option to change the text for the Purchase button to something more relevant for you and your brand
► There is an option to offer a discount code.
Enter the amount you would like participants to pay (in your chosen currency) and the text (or code) quiz takers need to provide to get the discount.
4. Publish the quiz or course
► Change quiz status to Open
► Select how you would like to share your quiz or course:
Use quiz link - share the link on your website, social media pages or emails. Don't forget to ask people to register for the quiz if you would like to email results and answers
Assign users or groups
5. You will be able to start selling your quiz or course straight away.
6. You can view all purchases through Stripe or on your FlexiQuiz analyze screen.
!Top tip. On FlexiQuiz.com analyze screen, if the customer has not submitted the quiz you can view their payments by switching the tab on the screen to include unsubmitted quizzes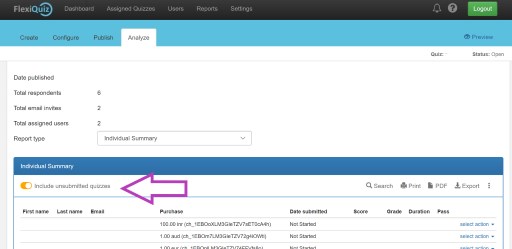 Transactions
When someone makes a payment through your Quiz link, Stipe automatically collects and processes the customers payment. FlexiQuiz never views or saves any credit card numbers.
You can go to the Analyze section on FlexiQuiz.com to view how many people have taken your quiz and their results. Any further customer data like customer names will only be available if the quiz has been configured to collect the data.
To view the total number of purchases, make refunds and transfer funds to your bank account. You will need to log into your Stripe account.
FAQs
Who is Stripe?
Stripe are a third-party payment processor that lets you securely accept and manage payments online.
Can I charge a single price for access to multiple courses and quizzes?
Yes, you can add a redirect at the end of the quiz and course to direct respondents to the next quiz, course or URL.
How can I test the full process (the full customer experience)?
What is the minimum price that I can set for each quiz or course?
You will need to set the following amounts as a minimum:
1 USD
100 Rupees
10 Rand
1 Canadian Dollar
1 GBP
1 Euro
1 New Zealand Dollar
1 Australian Dollar
What is the customer experience for buying a quiz or course?
This is your Payment page - your customers will see this screen when you Publish and Share your content.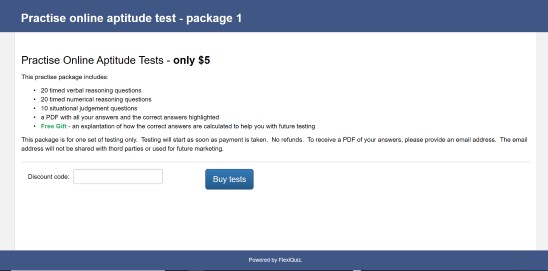 When your customers select to purchase your quiz or course, they will be directed to Stripe and required to enter their card details.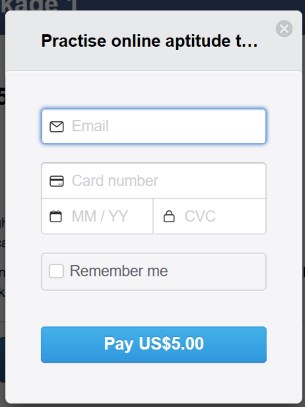 Once the payment has been processed, customers will be given access to your content and will need to review this straight away. If you would like to send an invoice to customers this can be set up through Stripe.
Do customers need to view my content straight away?
The system is automatically configured for people to complete the quiz or course immediately. However, you have some options:
i. Set up Save and Continue - this will give customers a unique URL for them to access your content at a later date.
ii. Use Respondent accounts - customers pay for the quiz and it's assigned to their personal account to be taken at any time.
Blog: A beginner's guide on how to make money selling quizzes.