Help
/ Adding background colors to your quiz pages
Changing background colors
With FlexiQuiz quiz maker, you can change the background colors on your quizzes and courses.
Color is a great way to reflect your brand and set the tone for your quiz content. So, whether you're looking to create a neon '80s trivia quiz or a formal aptitude test, FlexiQuiz can help you create beautiful and professional quizzes.
You need an Essentials plan or above to theme your FlexiQuiz pages on a classic quiz.
How to change background colors
To start, create a quiz or edit an existing one.
Next, go to the Configure tab and select Theme from the left-hand menu.
Scroll down the page to Background colors to view all the elements where you can change the colors. Your options are:
Background
Sides
Header
Footer
Logo banner
This image shows the position for each section.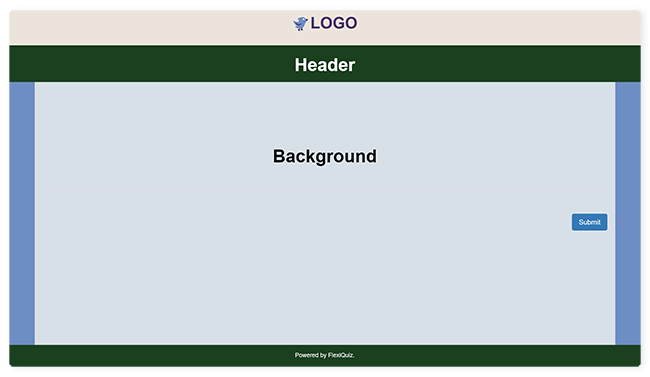 You can now add your colors. If you know what color your want to add, simply enter your HEX code in the box. To choose a new color, press the down arrow and pick from the options in the Basic colors or Advanced tabs.

Important! You can also change the font colors to ensure a good contrast between the text and background color.
Once you click out of the color box, FlexiQuiz will automatically apply your new colors to all your pages - including the welcome, questions, text/media, results, registration and thank you screens.
To view how your new color theme looks, press the Preview icon on the top right of your screen.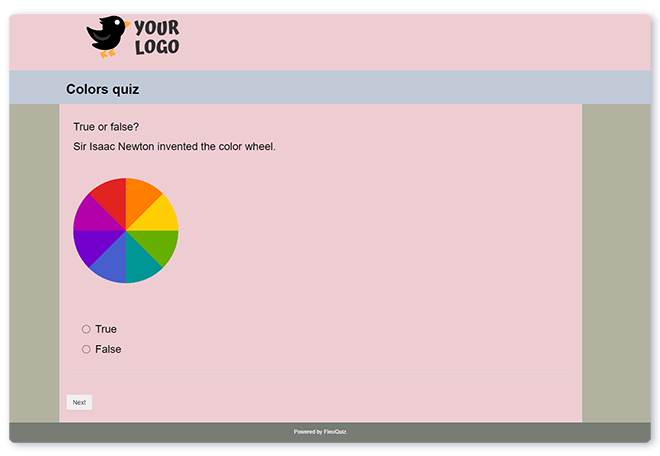 Top tip! Background images are another great way to add color to your FlexiQuiz content.
Relevant help guides:
How to customize your quiz with google fonts
Ways to customize the branding on a quiz
Blog: Ways to style your quiz.
Back