Help
/ How to create a free online quiz
PRODUCT
How to create a free online quiz
By Joanna Griffiths, FlexiQuiz.
5 minute read.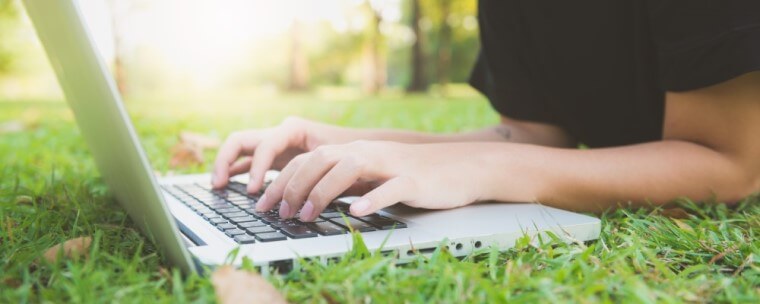 Creating an online quiz gives you the freedom to generate a customized test that engages your target audience, builds knowledge, and identifies any training needs. Using an excellent online test maker tool means that you can quickly create quizzes anytime, anywhere.
The 6 steps to create a free online test:
Identify requirements and objectives.
Create effective questions.
Choose a powerful online quiz maker tool.
Add your questions, correct answers, and any detractors.
Configure the rules and make the test look beautiful.
Share the quiz and analyze the submitted results.
Step 1: Identify objectives and requirements.
To start, you need to identify who you're creating a quiz for and why. Your requirements can range widely from entertaining friends, family, or customers to assessing the knowledge and skills for
colleagues
, students, or
prospective employees
.
Once you have your reasoning for making a quiz, it will help you identify the kinds of questions you need to write and the presentation style.
For example: If you're creating a fun quiz for friends, family, or teammates you can add quirky and amusing questions for presentation in a fun way. So you may want to consider features such as GIFs, links to YouTube or Vimeo, and to add some picture choice options.
However, if you're
creating an examination
for prospective employees, then you may want something more formal that can minimize cheating and identify the respondent's knowledge capabilities. In this instance, you may wish to maximize quiz attempts, add time limits, and share in a clear and straightforward format.
Step 2: Create your questions.
One of the most significant benefits of creating your quiz is that you're able to share an exam with items that are relevant to your friendship group, industry, grade, or organization. Related questions help you engage people, check their understanding of a critical topic discussed in training, or maybe identify someone's fit within your organization.
There are generally two types of questions that can be used based on your objectives:
Objective test questions that require recognition and recall of a subject matter. These questions need a specific answer, and there is no room for opinion. You can use question formats such as multiple-choice, single-choice, picture-choice, true-false, matching, or fill-in-the-blanks. These questions can be scored in real-time using online software.

Subjective questions require the test taker to explain the answer, such as an essay, short answer paragraph, or attach documents that contain coursework such as a video. These questions will require the quiz maker to review the answers and score accordingly.

Step 3: Choose an online quiz maker tool.
There is a vast choice of software providers that offer a platform for you to create your tests online for free. However, many of the features are generally limited on a free platform, so you must find a solution that can still meet your objectives and present your questions appropriately.
These are the main points to consider when choosing your free quiz-maker software:
How user friendly is the software for the test maker and respondents?
How many questions and quizzes are you able to share?
Can the system instantly score your examinations and share results in real-time?
What are some of the main features you need based on your objectives and questions?
How good do quizzes look on the platform?
FlexiQuiz is a web-based free test generator that gives a massive choice of features. With FlexiQuiz, it's easy to create engaging and challenging quizzes for test-takers that look great on any device such as mobile, laptop, or tablets.
These are some of the key features that the FlexiQuiz free online test generator offers:
The system marks the quizzes in real-time with a choice of ways to share test results.
Time limits set by page or the whole quiz.
Choice of public or private sharing options.
Add GIFs or YouTube links.
Choice of fonts and colors.
You can add ten questions per quiz, ten questions a month, and 20 responses per exam.
8 question types to enable you to create essays, yes-no, multiple-choice questions.
Custom welcome screen, thank-you, and results pages.
Customized feedback.
Plus, much more. Check out the full list of free test maker features.
Step 4: Add your questions, answers, and any detractors.
Select the most appropriate type template to accommodate your questions.
FlexiQuiz can score the test in real-time, and so you need to provide the correct answer and number of points to award to enable the system to do the marking automatically. If you're using matching text or fill-in-the-blanks, you can give several right answers to allow for spelling mistakes or answer variations.
If you select a multiple-choice, single-choice, or picture-choice, you can add many answer choices to add complexity for the quiz taker.


Step 5: Configure and style the online test.
You can enhance the respondent's experience by setting some rules and configuring the system to gather the required learnings.
For example FlexiQuiz is a great test maker for teachers as it's possible to add time limits, maximize quiz attempts, and produce reports to identify the student's level of understanding at a question level. There are limited features on a free plan to change background colors, but you can change fonts and styles.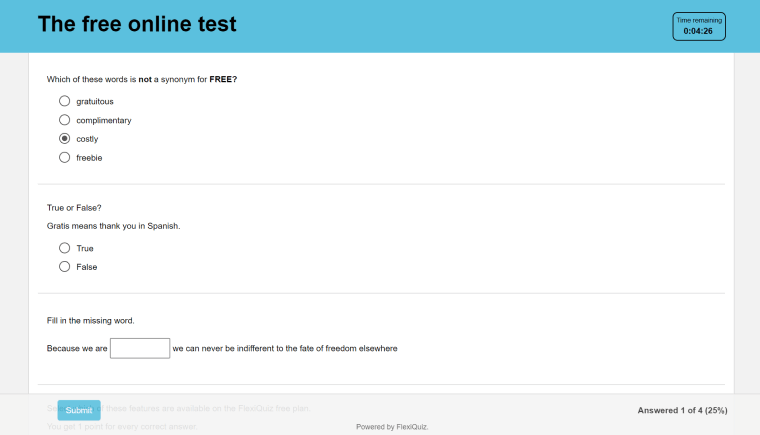 Step 6: Share your quiz and analyze results.
There are several ways that you can share your tests or exams online, depending on who you want to see it and what data you want to capture.
If you want to keep your quiz private, the options are
adding a registration page with a passcode
, email invite, or a respondent account. A respondent account will enable to quiz taker to log in and view assigned quizzes with a unique username and password.
You can track who completed your quiz in several ways, such as adding a registration page, email invite, or respondent accounts. These options work well for lead generation.
However, if you're creating a quiz for fun such as marketing awareness on your social media pages, then you may not need to track who responds. You can share a quiz link that anonymizes the data.
FlexiQuiz offers a compelling choice of reports for you to download in an excel file for further analysis and creating graphs. You can track common wrong and right answers, time is taken to complete the exam, and more.
For inspiration on using FlexiQuiz, test maker to create your first free test, check out and complete this
online test.
Or, create your first
online quiz
straight away.
Keep up to date with all of our latest news, information, and top tips in the FlexiQuiz social channels.
Back