Text/ Media Items
The text/ media item allows you to add content to a section or page of your FlexiQuiz.
Text/ media items are an excellent way for you to share knowledge as part of an e-learning training course, online examination, or digital learning program.
Your shared content looks great on any device including mobile, laptop, tablet, and desktop.
This guide shows you how to create a text/ media item and some example applications.
How to add a text/ media item to your FlexiQuiz
Create a new assessment or edit an existing one.
From the Create screen, press Add Item and choose Text/ Media from the drop-down menu.
Add your content.

You can share content in many forms, including:

Add text in almost any language directly to the page. You can also include mathematical formulae, links, tables, images, videos, gifs, and audio.

Top tip! Please do not copy and paste your text from a word document, as this contains hidden code that can affect how it looks on your page.

Attach documents for users to download, save and review.
Add your PowerPoint slides as an image to the page.

Top tip! Keep auto size ticked when you upload the document so that the FlexiQuiz system can auto adjust the size for any device used by the respondent.



Press Save
The content is added to your FlexiQuiz. You can continue to add additional text/ media items or questions on the same page. Or, add additional pages to allow respondents to focus on this content and for easier tracking.
Press Preview on the top right to see how your content will look to respondents.
Configure, publish, and share your content.
Additional options:
These are some fantastic FlexiQuiz features that you can use with your text/ media item.
Email notifications to respondents: Email notifications don't have to be all about results. You can customize emails to thank people for viewing your content.
Email notifications to yourself and nominees: Get an email alert when someone has viewed and submitted your content.
Redirects: Create a learning path leading responding to the following relevant learning program, a quiz, test, or examination.
Track time spent on the page: Check how long people have viewed your content.
Customize the look and feel: Change background colors, use google fonts, or update navigation buttons.
Add page titles.
Copy and paste your content: Save time and easily add your content to other quizzes within your dashboard.
Text/ media page examples:
This example is created by adding text directly to the page and customizing with images and a logo: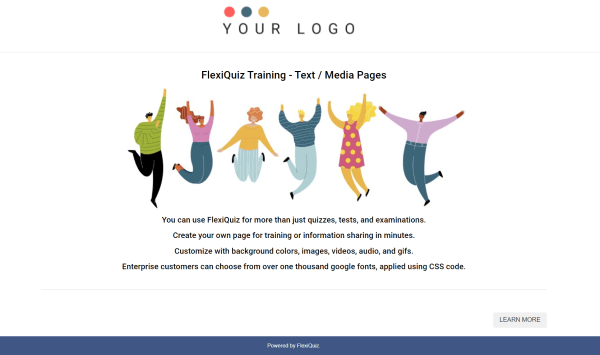 This example is created by attaching a slide of the presentation as an image: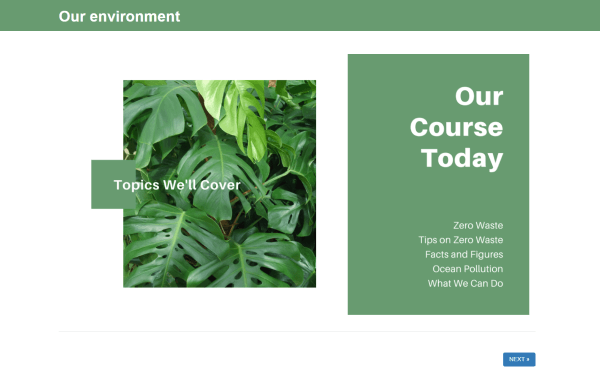 Relevant help guides:
Ways to share your learning material
Embedding your content on your site.