Home / Help Guides / How to Send Email Invites: FAQs
Invite people to take your quiz, test or assessment by sending an email direct from your FlexiQuiz account.
Benefits of email invites
✔ Easier for participants - no need for participants to register as you can identify people through the email address
✔ Easier tracking - each participant is sent a unique URL to manage access. Submitted responses automatically show on your analyze dashboard
✔ Saves you time - manage your tests from one place
How to send an email invite
Image below shows the screen for invite options.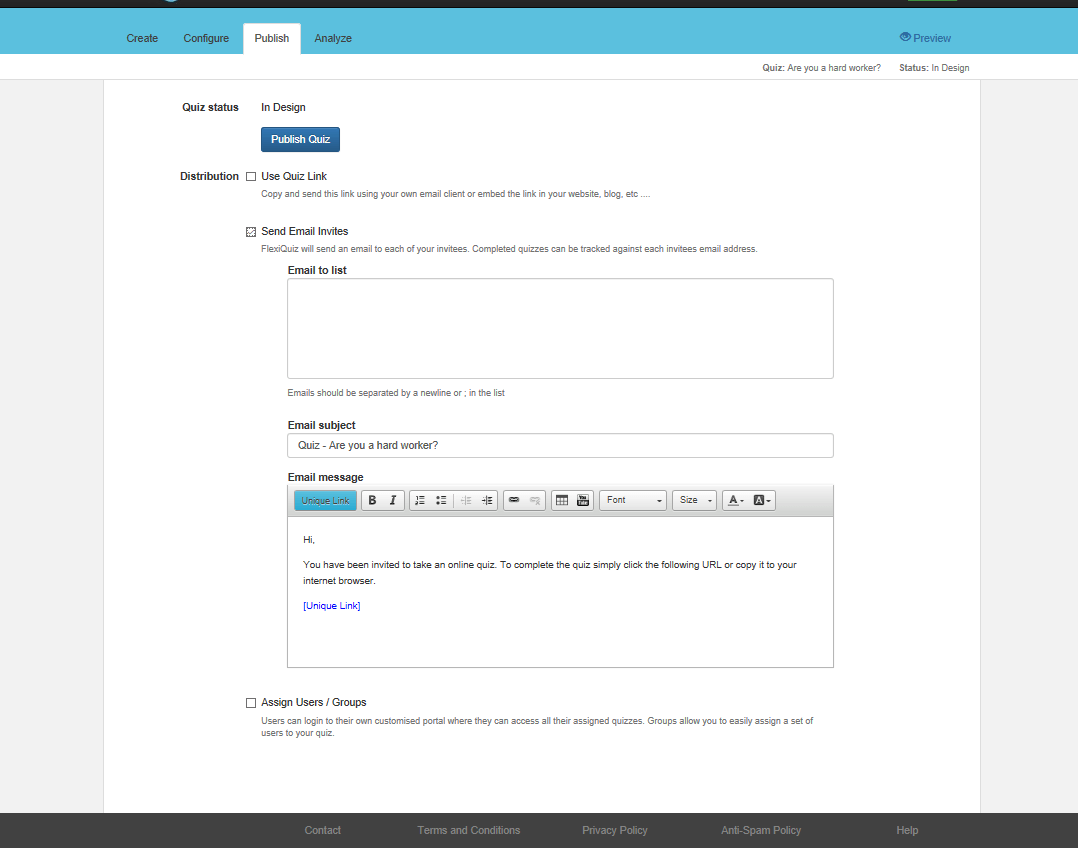 If the Test has already been published the white Email to list box will be grey but, you can still send emails - see next steps below
Next Steps if the quiz status is: not published
Add one of more email addresses in the white box under Email to list
Emails should be separated by a ; or a new line

Personalize the Email subject and Email message sections to ensure participants engagement. We've added some suggested copy that can be changed

Important - do not delete the

[Unique Link]

text as it's the participants link to access your test

Top Tip - Every Email Invitee will receive a different URL that can be tracked on your analyze dashboard

When you're ready to send the invites press the blue Publish Quiz button

Invites sent immediately
Next Steps if the quiz status is: published
Personalize the Email Subject and Email message

Click on the green Add Emails box

The window below will open with the option to Enter additional email addresses

Add one or more email addresses

Click Send emails

Invites sent immediately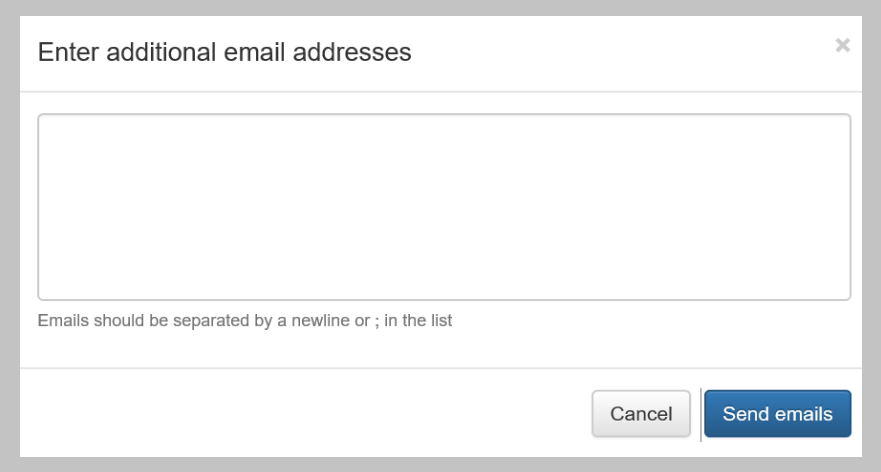 FAQs
Can I stop the email invitation being sent once I press Send Emails?
No, once you have pressed send email the quiz invitation is automatically sent. If you do not want people to access the test you will need to select Close the quiz.
If I have sent an Email Invite can I also publish the link and assign respondent accounts?
Yes. You can Publish the quiz and assign respondent accounts in the normal way.
Can I add a time limit to the test invitation?
No, this is something we're planning to add in the near future.
Currently, you'll need to Close the quiz to stop access.
Any Questions, Suggestions and Feedback? Please let us know!
Comments: