Home | Help Guides: How to create a multiple-choice test
FlexiQuiz makes it easy for you to create a quiz with multiple choice questions.
A multiple-choice question (MCQ) is a form of assessment in which participants need to select the correct answers from a list of options. Many different types of quizzes use multiple choice questions including, aptitude tests, exams, pub quizzes, entrance exams, compliance testing and many more. The multiple-choice question format can also be used for other types of tests such as True/ False or Yes/ No.
Once you've drafted your multiple-choice questions, simply add your content to the FlexiQuiz software, configure your quiz rules, publish and let FlexiQuiz automatically score your tests.
Benefits of using FlexiQuiz to create a test with MCQ:
✔ Tests are instantly scored, providing students with feedback and saving you time.
✔ Tests are always available and can be taken on almost any device.
✔ Enables you to create engaging and professional looking tests with a choice of layouts, branding, configuration options, plus the ability to add videos, images or audio.
✔ Flexible scoring options including:
- earning a set number of points for a correct answer or,
- removing points for incorrect answers (E.g., SAT subjects tests remove points from the test takers score for an incorrect answer).
✔ Powerful reporting to compare and evaluate student responses.
How to add a multiple-choice question to your quiz:
1. Login to your FlexiQuiz account
2. From your dashboard, select Create Quiz
3. Enter a name for your quiz and press Create Quiz
4. Press Add item and select Question from the drop-down menu

5. Choose which type of multiple-choice question format best fits your question:
Single choice (radio button) - quiz takers can only select 1 answer from the list of options. All answer options are displayed and respondents tick a box for the right answer
Single choice (drop-down) - quiz takers can only select 1 answer from a list of options that are shared in a drop-down menu
Multiple choice - quiz takers can select 1+ answer from the list of options that are displayed with radio buttons
Picture choice - quiz takers select 1 or more answers that are displayed in a picture format
6. Enter your question or item in the Question box. You can also change the font style, size or color, add GIFs, symbols and more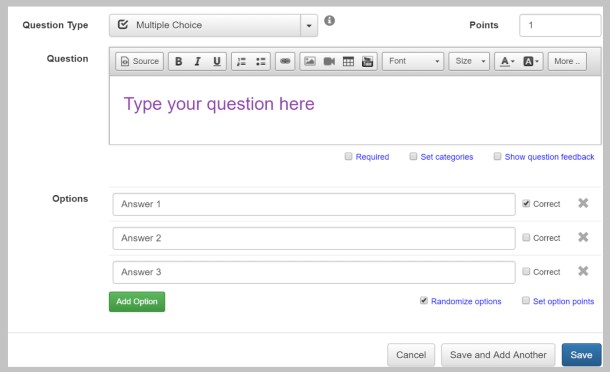 7. Add 1 answer option in each Options box
8. You can add as many answer options as required. Just press Add Option to get more boxes
9. Next to the correct answers tick the box Correct - this will enable FlexiQuiz to mark and score the quiz for you
10. You can also randomize the answer options shown to quiz takers (FlexiQuiz will randomly change the order of the answer options each time the test is taken) - tick the box Randomize options

11. Set the number of points quiz takers will score for the question
12. Press Save
13. To add more questions on the same page, press Add Item and select Question
To insert a question in a new page press, Add page and on the new page press Add item and select Question
13. Free plan members can create up to 10 questions per quiz. Premium plan members can add unlimited questions
14. Configure your quiz from the configure tab
15. Publish your quiz from the publish tab
16. View and analyze results from the Analyze tab
Relevant help guides:
Ways to share your online tests