Home | Help Guides | Adding logos
Personalize your quiz with logos and images
You can add logos or images to the headers on all pages of your quiz, test or course.
How to upload and position a logo or image:
This feature is available for paid plan members only.
1. Create a quiz, test or course
2. Select the Configure tab (from the options along the top)
3. Select General from the left-hand menu
4. Next to the Display options, tick the box Logo
5. Press Browse to choose your logo or image for uploading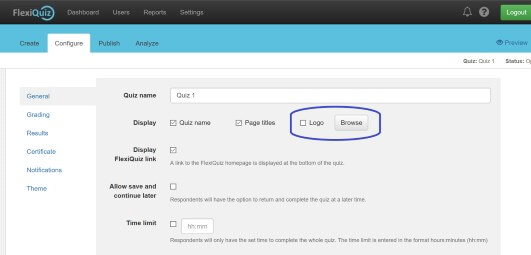 6. Logos can be uploaded in JPG, JPEG, GIF, PNG or SVG format
7. Select a logo or image from your files
8. The size the image will be uploaded will be shown (height by width). If the size is not correct untick the auto size box and add the sizing for your logo. The size of the logo can be changed at any time
9. From the drop-down menu, select if you would like to position the logo to the left, middle or right on the page header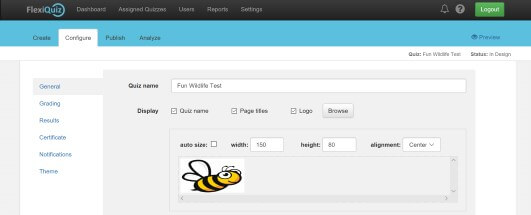 10. The logo is automatically added to all pages within your quiz including; welcome, questions, question, media, results and thank you pages
11. Press Preview to view the logo in position. The logo is automatically shown on a white background, but this can be changed through the Themes options
12. You can adjust the size of the logo at any time by returning to Configure and General
How to change the colors for the logo background banner
The logo is automatically configured on a white background (HEX code fffff). To change the color of the logo background:

From the Configuration menu, select Theme from the left-hand menu
Scroll down the page to Logo.

Choose to add your own HEX code or select a color from the FlexiQuiz pallet.

View the color and logo by pressing, Preview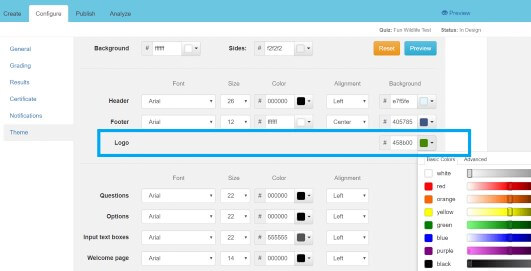 Is it possible to create a logo template to use on all quizzes, tests and assessments?
No. But, there is a work around solution:
Any suggestions or ideas? Please let us know.