Home | Help Guides: File Uploads: How to create a test with a File Upload question
File upload is a Premium or Enterprise plan feature that enables quiz takers to upload files within your FlexiQuiz tests, assessments or exams. Quiz takers can upload almost any file type from a desktop or mobile device. You can view and download any submitted documents from your Analyze dashboard.
This question format works well for:
✔ Course work submission - essays, screen shots, supporting documents
✔ Uploading CVs and supporting documents during a recruitment process
✔ Team building - scavenger or treasure hunts where people can share progress in real time
This is how file upload pages can look for respondents:
How to create a test with the File Upload question:
1. Login to your FlexiQuiz account
2. Create a quiz
3. From the Add item drop down menu, select Question
4. From the Question type drop down menu select File upload
5. Add your required text and any images, videos, audio in the Question field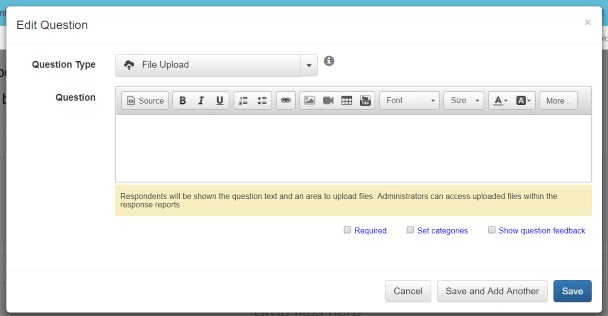 6. Select if the question is:
- Required - quiz takers can't move to the next page without uploading a file
- Set categories - question to be added to the question bank
- Show question feedback - do you want to show any feedback or comments?
7. FlexiQuiz is not able to automatically mark the question - you will need to manually add a mark once the test answers are submitted
8. Press Save
9. Continue to add more questions if required
10. Configure and Publish the test
11. Once the tests are tests are submitted, go to the Analyze tab to view and download files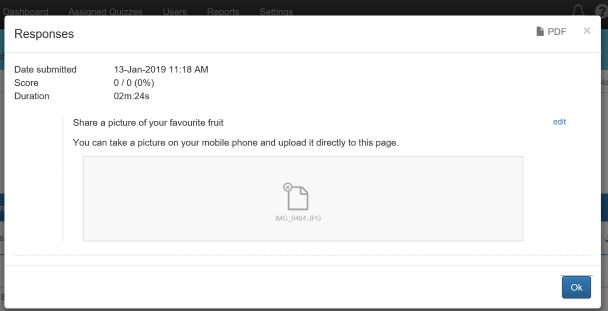 FAQs
What is the maximum size of file that learners can upload?
15MB, although we do offer some flexibility. Please contact us if you need to upload larger files.
What is the maximum amount of space I can use on my FlexiQuiz account?
There is a 5 GB limit but we do offer some flexibility. To avoid large amounts of space being taken up with these files we recommend downloading them from time to time and saving them on a 3rd-party service.