This is an official Cambridge examination. Source
Part 2 Speaking exercise. Candidate B
The examiner will stop the interaction after 4 or 5 questions have been asked and answered with the first candidate. A different set of prompt cards is then given out, so that candidate A has the opportunity to ask questions and Candidate B to answer them.
In the example, the questions are about a library.
Candidate B. here is some informtation about a bookshop.
Candidate A. you don't know anyhting about the bookshop, so ask B some questions about it. Now A, ask B your questions about the bookshop and B, your answer them.
Candidate B- your answers Candidate A- your questions.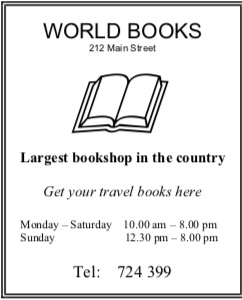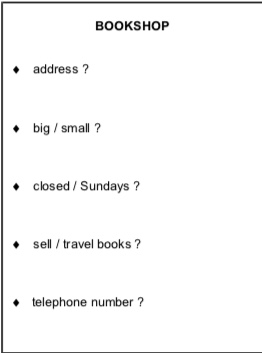 Possible questions and answers: (Practise saying them aloud)
What the bookshop's address?
It's 212 Main street.
Is it a big or small bookshop?
It's very big. In fact, it's the largest bookshop in the country.
Is it closed on Sundays?
No, it's open on Sundays from 12.30pm to 8.00pm.
Do they sell travel books?
Yes, they do.
What's their telephone number?
Their telephone is seven two for three nine nine.